We've got some exciting news. We've spent the last months creating our annual Startups Without Borders Summit, and it's going to take place in, not one, not two, but THREE continents all at once!
It's going to be a blast!
We're streaming LIVE from 3 stages in Amsterdam, Cairo and San Francisco. Gear up to meet 75+ speakers and the world's future legends. Brave leaders, industry pioneers, innovators and rule-breakers. 10+ workshops to redesign the future of business, and MORE.
If you're interested in growing your network, meeting investors, entrepreneurs and changemakers around the world from your couch, then keep reading.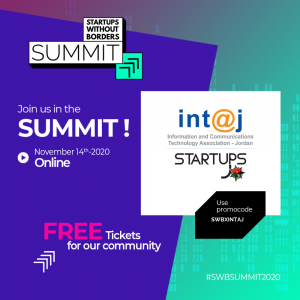 Startups Without Borders Summit 2020 will take place on 14 November 2020 and we can promise it'll be a top-notch event. You'll learn from the leaders of global tech GIANTS, including Facebook, Microsoft, Dell Technologies, Techstars, and many more.
— and you can learn DIRECTLY from them!
Here's just a small sample of what you'll learn during the summit sessions:
How to build a product people love – even in lockdown
The A-Z Legals of Getting Investment Ready & Getting Funded
Mastering media relations when the world is not paying attention
The Data economy: why it matters more than ever
How to start (and register your business) in 3 minutes with Estonia's e-residency
If you're serious about starting/growing your business, this is the must-attend event of the year.
free ticket can be accessed either with the promo codes on the ticketing platform using this code SWBXINTAJ , or through the link: https://ticketing.eventtus.com/y9jejl4y4euml0ruh4rysuixn6ifco2f/tickets?discountcode=SWBXINTAJ