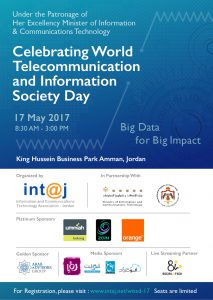 Our world is being increasingly flooded with data coming from phones, smart devices, IOT and the social media and creating a digital revolution. But if data is the new oil, contextualized knowledge is the new gold that promises to transforms this data into actionable insights critical to decisions and policy makers. Thanks to advancements in computer technology, machine learning and AI, Big Data and Data Science are making it possible to analyze massive amounts of digital, textual and video data and to provide the intelligence that will drive smart-everything: smart health, smart devices and smart cities. Join us as we unveil this new and emerging field of Big Data that promises to revolutionize businesses, industries and government, transform and reshape every aspect of our lives; and lead Jordan through its transition to the digital economy.
Target Audience:
Anyone working with data management, big data, analytics and business intelligence projects either on the business side or the technical side will benefit from attending this conference.
The agenda will carefully take into account whether audience looking for deeper technological learning or if interested in learning from some of the specialists in the big data market.
Audience will include, Senior Executives from Private & Public Sectors, ICT Professionals, Tech Startups, Tech Academicians, Tech Fresh Graduates and Students.
Registration link: http://82.212.86.133/wtisd-17