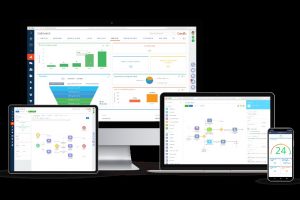 BMB is now Integrator Partner for Creatio CRM solutions.
Creatio (formerly bpm'online), which was named a Leader in Gartner's 2019 Magic Quadrant for Sales Force Automation, will strengthen BMB's portfolio in the area of Sales Force Automation.
Creatio envisions the world where any business idea can be automated in minutes. To embrace this concept, the company provides the top-notch low-code process management and CRM platform for organizations to accelerate marketing, sales, service, and operations. Unlike traditional CRM systems, Creatio allows businesses to accelerate key processes quickly and easily, equipping companies with the agility needed to constantly test different approaches and define the most efficient ways of communication with clients.
According to a recent study, the ROI on CRM is approximately $5 to every $1 invested. As a result, investing smartly into the right CRM solution can significantly boost your business results driving 5 times higher revenues.
To make it easier for you to choose the best-fit CRM software, Creatio constructed a concise guide of what to look at, what to consider and what to do when selecting CRM that fits your business size, needs and goals.
Download the e-book and learn:
Key elements of a winning CRM strategy
DO's and DON'Ts when selecting a CRM system
What analytical reports and firms to refer to when scouting the CRM field
What the best approaches are to shortlisting CRM vendors
https://www.creatio.com/page/ebook/crm-buyer-guide?partner=BMB