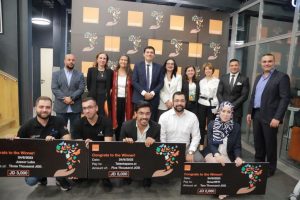 Orange Jordan announced the three winners in the seventh local edition of the Orange Social Venture Prize (OSVP 2023), recognizing innovative projects with a sustainable social and environmental impact in various fields, such as health, agriculture, education, energy, trade, and industry.
For Talent Space, Muhannad Alsouqi won first place with a prize of JD 5,000, for Jusoor Labs, Tawfiq Qaffaf won second place with a prize of JD 3,000, and for Smart WTI Heba Asaad won third place with a prize of JD 2,000. The finalists, qualifying from 97 applicants, were evaluated by a jury of experts in entrepreneurship and technology before the winners' announcement.
The winners of the local Orange Social Venture Prize get to compete in the international edition of OSVP, where the first prize is €25,000, the second prize is €15,000, the third prize is €10,000, and there is also a €20,000 award for projects founded by women.
Orange Jordan CEO, Philippe Mansour, emphasized the importance of the Orange Social Venture Prize in supporting projects that provide solutions to environmental and social challenges, especially climate change. He also expressed his pride in the Jordanian startup iROLE, which won the €20,000 Women's Prize in the international edition of the award last year.
Chief Corporate Communications and Sustainability Officer at Orange Jordan, Engineer Rana Al Dababneh, congratulated the winners of the seventh local edition of OSVP, which embodies Orange's commitment to supporting innovation, wishing them success in the international competition. She also highlighted the importance of OSVP in supporting prototypes and growth-stage startups with environmental or societal impact to attract investors and achieve a real impact with their innovations.
Al Dababneh thanked all the participants for taking the initiative in using technology to create innovations that improve people's lives and contribute to development. She also thanked the jury members for their support of the entrepreneurial ecosystem, noting that entrepreneurship is a main pillar of Orange Jordan's social responsibility strategy and a driver of economic growth.
Orange Jordan encouraged the seven finalists to continue their entrepreneurial journey and participate in next year's edition of the prize. The finalists were Reem Al-Smeirat for Womotive, Jasser Al-Harasis for Robotna, Ziad Abu Ayyash for Sannula, Bayan Al-Abdallat for Adadk, and Faisal Al-Armouti for DoorBox, Yazan Tadros for Math Mania, and Majdi Al-Qudah for O2 Dive Experience.
This year's local OSVP jury comprised the CEO of Information and Communications Technology Association – Jordan (int@j), Eng. Nidal Bitar, Managing Partner at Amam Ventures, Fida Taher, CEO of Injaz, Deema Bibi, CEO of Education for Employment– Jordan, Ghadeer Khuffash, Regional Director and Head of Programs at Ruwwad Al Tanmeya, Samar Dudin, Director of Innovation and Entrepreneurship Center at the University of Jordan, Dr. Yazan Al Zain, and Chief Corporate Communication and Sustainability Officer at Orange Jordan, Eng. Rana Al Dababneh.