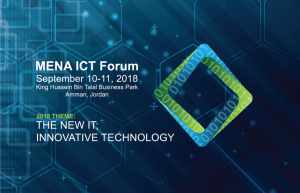 The Middle East and North Africa Information and Communications Technology (MENA ICT) Forum 2018 is set to be held, under the Royal patronage of His Majesty King Abdullah II Bin Al Hussein, on September 10 and 11 at the King Hussein Business Park in Amman.
The forum, entitled: "THE NEW IT; INNOVATIVE TECHNOLOGY" and organized by Information and Communications Technology Association (int@j), is a major event, held biennially in Jordan.
The theme of this year's forum was chosen due to the tremendous demand for information in order to generate more insights to develop the business environment in Jordan and the region, as well as exploring the best ways to benefit from the world's expertise in this regard, especially as the typical information technology introduced advanced technologies into our daily lives.
Chairman of int@j, Bashar Hawamdeh, said innovative technologies is the future.
Those  technologies, Hawamdeh added, contribute to radically restructuring the world, especially with the emergence of new concepts, such as self-driving cars, solar cells, gene therapy solutions, smart cities, face recognition and smart applications.
To possess new innovative technologies means acquiring a "solid power" that will have a significant impact on the national economy and lifestyle, as well as on the community culture, int@j's chief noted.
He indicated that the theme of this year's forum is inspired by the continuous innovation and technological development. He said he believed that IT is no longer a simple and ordinary "IT" but has strongly been turned into more and more "innovation."
"Are we ready for the new IT?", Hawamdeh wondered, concluding his statement.
The two-day event will showcase success stories in the Middle East and North Africa and discuss the latest trends, opportunities and future prospects in the IT sphere.