Conducted by Int@j in Ma'an a National Initiative with 36 Supporting Bodies for Innovation, Entrepreneurship, and Capacity-Building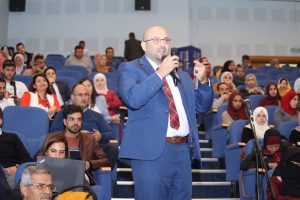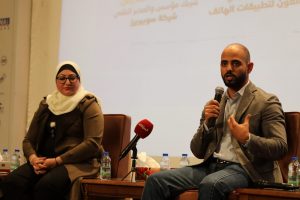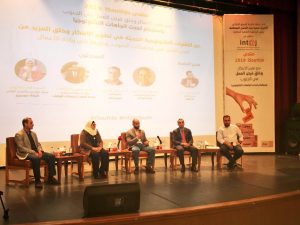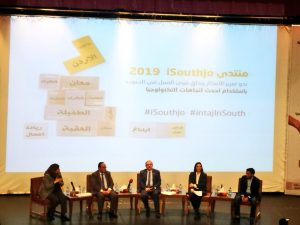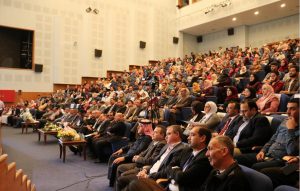 Ma'an
iSouthJo participants gathered to promote innovation and job creation in the south; the forum, under the patronage of HRH Princess Sumaya bint El Hassan, the President of the Royal Scientific Society, was conducted by the Information and Communications Technology Association of Jordan (int@j), with the participation of the Ministry of Youth, Ministry of Digital Economy and Entrepreneurship, and the Economic and Social Council, with HE the Governor of Ma'an Mohamed Al Fayez in attendance as Her Royal Highness's representative, and focused on the  importance of modern technology in creating income-generating jobs without the need to change geographical address.
Int@j Chairman Dr. Bashar Hawamdeh highlighted the importance of focusing on southern governorates and youth there. He said that the key objective is to link companies in the capital Amman and entrepreneurship in the southern governorates, calling on youth to endure and build their own ideas before seeking job opportunities.
He added that int@j seeks to serve the ICT sector by creating a generation of young entrepreneurs that can contribute to their communities in particular and the national economy in general.
He said that young entrepreneurs are able to change standard thinking—which decrees that the government provides jobs—as they take responsibility and provide jobs for themselves and others.
Prof. Arafat Awajan, Vice President of Princess Sumaya University for Technology, said that the form was a great opportunity for graduates and researchers to work in southern governorates, as it discussed the methodology for changing modern job search technology and qualifying students to this technology without changing their residence.
He said that this forum seeks to network between universities, employers, and major companies operating in the kingdom, noting the importance of promoting initiatives in southern governorates, since the opportunities presented by and nature of work have changed in the world with the use of technology.
He considered the forum an opportunity to review real success stories of challenges overcome and goals achieved.
He added that the forum searched for ways to help female students to find job opportunities using technology, without forcing them to leave the southern governorates and move north.
Int@j CEO Eng. Nidal Bitar thanked HRH Princess Sumaya bint El Hassan for her patronage, saying that this forum is the first step towards the launch of a national initiative involving more than 36 entities supporting innovation, entrepreneurship, capacity-building, and employment.
He stated that the forum seeks to support and promote business in the south, link specialists and experts from Amman's private sector with interested parties in southern governorates, and share knowledge and opportunities with southern governorates, thanking all those supporting the creation of the forum.
Int@j seeks to form a real partnership between the private sector, public sector, academic bodies, civil societies, and donors, he said, with the goal of affecting the real positive change that entrepreneurs and creators of both sexes in southern governorates deserve.
Mayor of Ma'an Akram Krishan praised the decision to hold the forum in Ma'an, considering it was the first of its kind for creativity, creating opportunities, and empowering women.
Dr. Krishan said that the Municipality of Ma'an was in partnership with Ma'an's residents, as indicated by the launch of the Women's Empowerment Unit to support women on all fronts.
He said that 20 grants had been given to women in Ma'an, with numerous projects formed with several parties to enable women to create job opportunities for women in the city.
He said the skills of women should be developed through workshops specializing in computers, the Internet, and digital marketing, calling for collectively working towards achieving the development required.
Arab Women's Enterprise Fund Jordan Country Director Reham Gharbiyeh that the issues facing young people were in ease of movement and the lack of job opportunities, in addition to the south's weak technology infrastructure.
She said that solutions should come from those same areas and not through the central government, noting that the Fund is always looking to work with municipalities.
She added that the Fund targets communities in general, indicating that the most important initiative of the Fund is in licensing domestic work.
She pointed out the importance of applying flexible work and taking advantage of the benefits and nature of this application, especially as this work protects employers and employees and provides job opportunities outside the workplace.
The Crown Prince Foundation's Mais AlDaoud said the Foundation has worked grows of up to 80 young people in various sectors to form a "position paper" which runs across all needs of young people in municipalities.
She added that these needs were concentrated on problems of transport and communications, the quality of education, and the requirements of the labor market, especially the use of English, on top of the interest of young people in innovation, entrepreneurship, creativity and employability of skills through a focus on technology, energy, tourism, and some agricultural and industrial sectors that have a significant overlap technology.
She stated that there are similarities in the needs of all regions and governorates, stating that the digital age and technology contribute to countries' development at a highly rapid rate.
She said that the world is changing dramatically, depending on human resources, creativity, and technological education, adding that that technology creates thousands of jobs but must be used via the development of skills and the creation of a fair environment to access opportunities.
She noted the large uptick in rates of online employment, as economies have shifted from competing companies to competing skills.
Zain's Corporate Entrepreneurship Responsibility Team Leader Ahmad Ibrahim said that the Zain Innovation Campus (ZINC) supported entrepreneurship in Jordan, especially as this environment is composed of different elements, such as a human work force, financial support, and markets.
He added that the company supports corporate talents through 8 platforms in Jordanian universities in various governorates of the Kingdom.
He stated it was the implementation of ideas and their competitiveness which mattered, not just finding ideas, pointing to the company's support for women's entrepreneurship programs.
He added that Zain has a communications center in Tafilah Governorate, and a new center will be opened in Ma'an next year, plus additional training centers, partnerships, and initiatives in many areas.
He instructed students and recent graduates to intensify efforts and develop the skills necessary for the labor market work, as those learned from universities are not sufficient.
During a session on the role of technology in furthering innovation and job creation run by I Learn Jo Director Saddam Sayyaleh, participants reviewed mechanisms for creating jobs through entrepreneurial ideas, as echnology has helped create thousands of jobs locally and globally.
National Skills Sector Council Chairman Dr. Alaa Ensheiwat led a talk on the private sector's expectations of fresh graduates and universities; participants focused on the importance of young people having life and technical skills to enter the labor market, including English, a key requirement for companies.
A session on whether the entrepreneurial economy can     create jobs through individual initiatives based on technology.
At the closing session, success stories from the southern governorates were reviewed. The session was moderated by Mohammad Nabulsi, Economic & Social Council Secretary General, which saw participants discuss the challenges they faced at the beginning of their work, how to overcome these, and the status of their projects, in addition to advice they dispensed at the forum in general.
The forum, the first of its type in Jordan, is part of int@j's desire to promote innovation and job creation in entrepreneurship and modern technology in all governorates of the Kingdom; participants, who exceeded 400 in number, discussed various topics centered the stimulation and support of leadership and creativity in southern governorates.