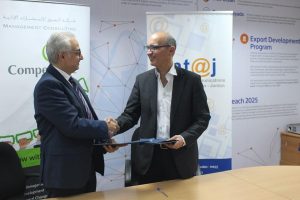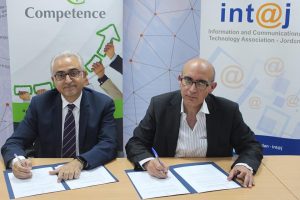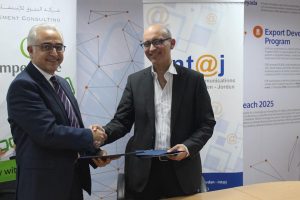 The Information and Communications Technology Association of Jordan (int@j) signed a memorandum of understanding with Competence Management Consulting (CMC) on assessing the export readiness of 100 SMEs operating in the local ICT sector with the goal of enhancing opportunity to market their products in the European market.
The memorandum—signed by int@j CEO Eng. Nidal Bitar and CMC founder and director Adnan Ziadat—is part of another memorandum of understanding previously signed between int@j and Jordanian Action for the Development of Enterprises (JADE) to build and strengthen association member companies' ability to ensure their market and economic growth.
Eng. Bitar stressed the importance of renewing cooperation with CMC to strengthen the technical and advisory capabilities needed to secure int@j member companies' entrance into the European market.
He added that int@j always strives to enable member companies to benefit in every way, emphasizing that the memorandum is a real opportunity to inform member companies on requirements to work in foreign markets and how to complement domestic products to develop the current status of exports.
Mr. Ziadat said that CMC helps SMEs assess export readiness by aligning business development plans with European market requirements, adding that the memorandum of understanding helps sector companies prepare entering new markets through a set of training and consulting services provided by the company.
On the mechanism of work of the program, Mr. Ziadat explained that the program includes two phases. Phase I: Communicate with all sector companies over several stages, assessing their export readiness through the "Export Readiness Assessment Tool," which in turn identifies the strengths and weaknesses of Jordanian export companies.
He added that the second step is to provide training and advisory services to qualified companies to strengthen their presence in regional and global markets, especially in Europe.