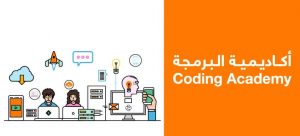 Orange Jordan completed the selection process of the Coding Academy's second batch and is ready to welcome 50 new students, which were chosen carefully by a specialized jury out of 7000 applicants, to its academy.
The company was committed to complete the selection process of the academy's second batch despite the obstacles imposed by the Coronavirus via safe digital tools, in line with the precautionary measures adopted in the country to combat Coronavirus pandemic.
The remarkable success of the first batch and the high number of candidates who showed interest in taking part in this one of a kind training program in the Kingdom, motivated Orange Jordan to deal with the circumstances and proceed with the selection process through a specialized judging committee from Orange Jordan and its Partner Simplon.co. The jury conducted interviews and exams online using the latest communications tools. The interviews were held between the 6th and 13th of July to select the academy's new students.
Orange Jordan offered those who were not selected to join the academy a free online training opportunity, delivered by Cisco Training Academy, to learn Python programing language as a reaffirmation on the significance of training on career development.
The company said that the high number of applicants proves the importance of the academy's courses in advanced programming languages that are highly demanded by local and international labor markets, noting that the academy strives to train talents in programming, in line with international standards, to enable them to receive employment opportunities, and to supply all sectors with skilled programmers and experts.
The company stressed that it is keen to achieve more success through the academy, especially after  70% of its first batch got jobs before finishing their internships, noting that this achieves the Coding Academy's mission of training for employment.
The academy's  intensive program includes 6 months of training on JavaScript, Php, Python, websites development, mobile and computer apps, and self-development skills, and a one-month internship at a Jordanian ICT company.