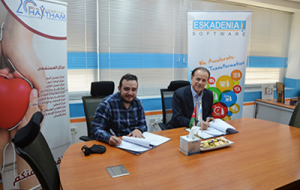 ESKADENIA Software, a provider of best-in-class business systems that accelerate digital transformation, is pleased to announce the signing of a strategic agreement with Ibn Al Haytham Hospital to deploy a wide range of healthcare management systems.
This strategic cooperation agreement includes providing Ibn Al Haytham Hospital with ESKA® Carenet, ESKADENIA's state-of-the-art Hospital Management System that streamlines hospital operations, from patient admission to patient discharge. This system handles inpatient management, clinics, labs, radiology, pharmacy, and more.
ESKA® Carenet automates all hospital related operations and processes whether being medical, financial, administrative, or operational using the latest technologies and industry practices. The system was made to facilitate the work of the hospital's medical and administrative staff, manage patient information, create an organized centralized database to save, access, and deal with medical records easily and quickly.
The software suite enables its users to manage patient registrations, appointments, cases, and referrals and send automatic notifications. Moreover, it enables doctors and healthcare staff to track their daily tasks, medical cases, and follow-up visits.
This strategic partnership also included the implementation of a range of securely integrated back-office systems. These systems include ESKADENIA's Human Resources, Financial, and Supply Chain Management Systems; ESKA® HR, ESKA® Financial, and ESKA® SCM. These systems will ensure that all business activities will be done professionally and efficiently.
"We are very happy with the strategic partnership with ESKADENIA Software to reach the highest levels of excellence in patient care by using the latest technologies," Stated Dr. Ahmed Abu Khadija, Vice Chairman of the Board of IIbn Al Haytham Hospital.
"We are glad to be chosen by Ibn Al Haytham Hospital to accelerate their digital transformation project using the wide range of advanced products developed by ESKADENIA Software. The choice of the ESKA® Carenet and the company comes after a very long evaluation and due diligence process that considered local, regional and International Systems, so are happy for the confidence our partner puts in us." stated Mr. Nael Salah, Managing Director of ESKADENIA Software.
ESKADENIA takes pride in its distinguishable role in providing the best and latest integrated software products to all institutions and companies from various sectors in order to support the digital transformation wave.
This strategic cooperation comes from the belief of ESKADENIA Software and Ibn Al Haytham Hospital in the importance of technology and digitalization and employing them in optimizing healthcare management processes. Both parties agree that fully automating management systems will ensure faster and more accurate business flow, in addition to boosting productivity, improving quality, reducing workload, and enhancing communications between all stakeholders.