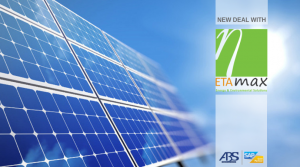 Advanced Business Solutions just welcomed a new client to the family! ETA-max Energy & Environmental Solutions is a regional leader in Solar Photovoltaic Systems, providing reliable and environmentally friendly power to small residential accommodations as well as commercial, educational and industrial facilities. With exceptional engineering capabilities and unparalleled technical experience, ETA-max proves to maintain a successful track record with clients in Jordan, UAE, KSA and more.
Thanks to our deep solar industry experience, ETA-max, alongside Hanania Energy and Philadelphia Solar, can easily improve productivity and stay competitive in the market. Implementing SAP Business One will help streamline business processes by combining data from a variety of sources into one, integrated platform – later resulting in reduced costs and risks.
To learn more about ETA-max, go to www.eta-max.com  We look forward to this journey together!