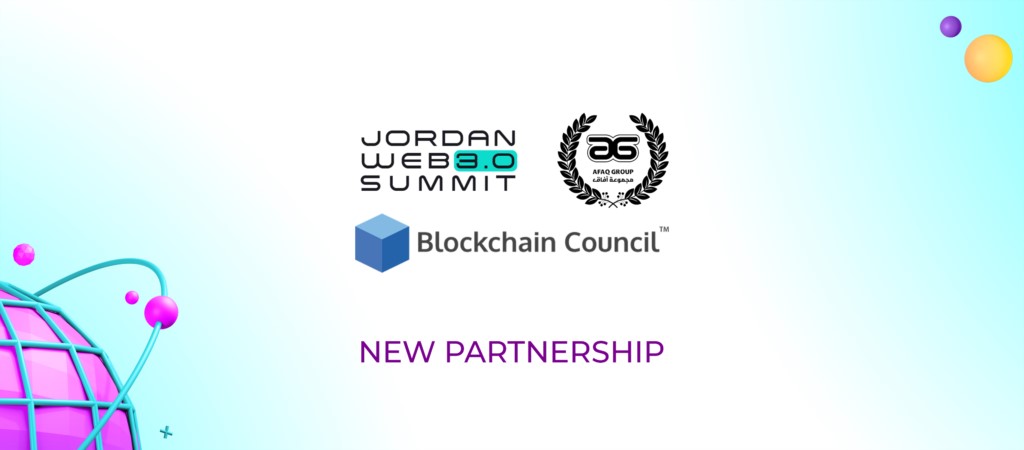 March promises to be knowledge-packed for Web 3.0 enthusiasts in Jordan and the surrounding area.
AFAQ Group, the MENA region's renowned events organizer and Blockchain Council, a U.S.-based authoritative organization of experts proliferating blockchain technology globally, announced they would join forces to provide Jordan Web 3.0 Summit audience with a tailored educational program.
This program will be held at the same dates of Jordan Web 3.0 Summit which are 12-13 March 2023 in the Intercontinental Hotel – Amman, as this summit will be Under The patronage of the Prime Minister of Jordan.
The 2-day program, inclusive within the event's ticket, features intensive in-person training about web 3.0 fundamentals.
"Despite being a futuristic trend, Web 3.0 is yet a sphere to explore and discover. For the region to grow and succeed in playing a key role in this industry, we need to build solid bases of knowledge and education," commented Suhair Al-Ashqar, Chief Executive Officer of AFAQ Group.
"We're honored to collaborate with Blockchain Council to bring in international expertise and provide our community with valuable knowledge about Web 3.0 literacy."
Mr. Nitish Srivastava, AVP Sales & Strategic Alliances of Blockchain Council, said, "Web3 is the internet of tomorrow and blockchain is its backbone. Now is the time to seize the opportunity to talk and learn about this disrupting technology. We believe the Middle East is doing a great job in empowering youth with the latest technologies. We will participate in the Jordan Web 3.0 Summit through Afaq Group and will talk about technology implementation in the various service sectors."
To make this opportunity even more accessible, Jordan Web 3.0 Summit will offer local businesses and companies the chance to onboard their teams at preferred group rates.
While the complete details of the training syllables are to be announced soon, interested parties may contact Afaq Group directly at www.web3jo.net.