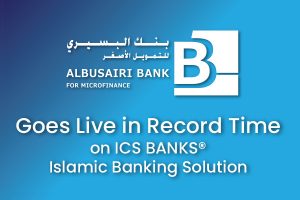 Al-Busairi Bank for Microfinance, a newly-established bank in Yemen, has successfully gone-live in record time on the fully fledged Shari'a compliant ICS BANKS® Islamic Banking software solution from ICS Financial Systems (ICSFS), the global software and services provider for banks and financial institutions.
Al-Busairi Bank for Microfinance was registered and granted all necessary licenses by the Central Bank of Yemen, and will be delivering comprehensive Shari'a-compliant Microfinancing products and services to the Yemeni market, and will be implementing ICS BANKS® Islamic Core, Credit Facilities & Risk Groups, Remittances, and ICS BANKS® Digital Banking, in addition to a wide range of Islamic banking products.
Mr. Abdullah Mohammed Al-Busairi, Deputy Chairman of the Board at Al Busairi Microfinance Ban
"Having worked with ICSFS's team during the implementation phase, I've grown more confident in my choice of their Innovative Banking Platforms, they demonstrated real knowledge and professionalism, and offered valuable insights along the way which enriched our staff's experience and command over their respective positions within the bank. The unified Financing solution delivered by ICS BANKS® has proven to have significant advantages with its easy-to-integrate modules and innovative features, which will be extremely helpful to our inauguration into the Yemeni market and quickly placing us amongst the market leaders."
Al-Busairi Bank has set their sights to deliver various Shari'a-compliant products that are supported with a wide range of digital touchpoints in pursuit of extending financial inclusion for Yemeni SME's and individuals and making financing products more accessible to the Yemeni market. All of which is made possible via the ICS BANKS® comprehensive open banking platform.
This implementation at Al-Busairi Bank, which was completed in a record time of 1 month, contributes to realizing the banks vision to offer true success opportunities to their customers and get ahead much faster in the market.
Mr. Wael Malkawi, Executive Director of ICSFS
"We are proud of yet another successful go-live in Yemen, marking not only our growth as a financial systems developer, but more importantly another milestone towards a stable and thriving economy in Yemen where Microfinance inclusion is expanding exponentially thanks to patriotic establishment like Al-Busairi Bank. Once again, we confirm our commitment towards providing excellent support and cutting-edge financing technologies as a part of our role in the success of our partners. Our robust ICS BANKS® Islamic Banking Solution comes with a promise of providing a stable, expandable, and cost-effective system that is continually updated to ensure the utmost compliance with Islamic Shari'a regulations locally and internationally.
ICSFS invests in its software suites by utilising modern technology in launching new products, constructing a secured and agile integration, and keeping pace with new standards and regulations worldwide. ICS BANKS® software suites future-proof banking activities by providing a broad range of features and capabilities with more agility and flexibility, to enrich customers journey experience, hence improving the trust and confidentiality between the customer and the bank. ICS BANKS has always been a pioneer in utilising the latest technology to serve financial institutions. In addition to its embedded Service-Oriented-Architecture (SOA), the system can be deployed on-premises, hybrid, or cloud.