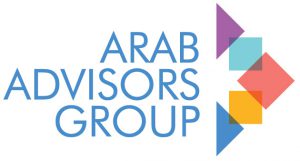 Arab Advisors Group, the leading research and consulting company in MENA, launched a new set of services designed to meet the rapid changes in telecom, technology and media markets. Arab Advisors Group also adopted its new branding, which reflects the dynamic nature of the company.
We are delighted to announce major expansion of our portfolio of services. The goal is to make each subscription more valuable and even more aligned with our client's needs and challenges.
Arab Advisors Group expanded further the coverage of its reliable Strategic Research Services to include new areas of focus which are in line with the changing demands and trends in the telecom, technology and media markets. The Expanded Strategic Research Service features analytical reports that provide deep insights into the latest industry trends, utilizing precise and reliable quantitative and qualitative research methods.  Furthermore, we have added expert contributions, to analyze these insights in both a regional and a global context. This special feature is unique and exclusive to Arab Advisors Group.
This expansion of the Strategic Research Service is complemented by the launch of the new Knowledge Process Outsourcing (KPO) service. The service avails to its subscribers full access to the Expanded Strategic Research Service, in addition to having a dedicated research analyst that is fully outsourced to the client, and supported by Arab Advisors Group's team of leading experts.
Additionally, clients with regular ad-hoc market research requirements can also benefit from Arab Advisors Group's new KPO-on-Demand service. This newly launched service offers flexible subscription models to analyst hours that can be used throughout the period of the subscription.
Our new mobile application, available for free download now for Android, and within a few days on iOS, encompasses all our enhancement and represents a convenient and reliable tool which enables clients to have access to our full database of cutting edge reports on their mobile devices.
These exciting enhancements are all reflected in our new branding, which reflects the dynamic and technological identity of our company, and highlights the innovative spirit of our skilled team of experts.
Mr. Mohammed Al-Shawwa, General Manager of Arab Advisors Group noted: "The expansion in our services comes as part of our commitment to exceeding our clients' expectations. We see ourselves as reliable advisors to our clients, and we look forward to contributing to their success in this new era of technology and digitization. I am confident that our team of experts will add tremendous value to our clients' endeavors in facing the new digitization challenges"
Ms. Muna Atallah, Director of Business Development and Conferences stated: "Our clients' satisfaction comes first. Therefore, we at Arab Advisors Group make sure that we always attend to our clients' future opportunities and challenges. In this regard, we structured our new services portfolio in a way that can meet all kinds of client needs. We look forward to offering more innovative services in the future; building on the success we had in serving over 900 clients since our establishment"
Arab Advisors Group assigned a team of experts to offer details on the newly launched services:
Expanded Strategic Research Service with highly analytical and precise reports and expert contributions.
Knowledge Process Outsourcing service which avails a dedicated research analyst and full access to the Expanded Strategic Research Service.
KPO-on-Demand service, tailored for clients with ad-hoc market research requirements.
State of the art mobile application offering access to our full database of reports.