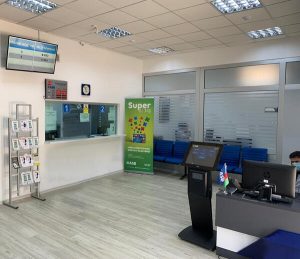 In line with its strategic vision towards digital branch transformation, ASB bank selected SEDCO's Queue Management system to install in its branches in Baku, Azerbaijan. This initiative comes to improve ASB customer journey by eliminating queues to comply with social distancing rules for a better and safer experience during Covid-19 and beyond.
SEDCO's advanced queue management solutions include queuing kiosks which are integrated with counter teller software, branch manager software, and audio announcement, all aligned to streamline the customer journey while enabling ASB Bank to have full central management.
Powered with BI tool, the queue system can centrally monitor and control all of ASB bank branches, while enabling each branch manager to track performance via live dashboards, view advanced reports such as performance analysis, waiting time compliance, and branch/ employee utilization, and predict trends in order to boost efficiency and make more insightful business decisions.
"Our initiative comes as a first step to evolve into a smart digital bank where the performance of all branches can be monitored from the head office. We trust that with SEDCO's digital branch transformation solutions we can improve our business and customers' experiences," stated Fardi Farhadov, deputy director at NBA Technologies International.
"Through this collaboration with ASB Bank, we are entering a new market and further expanding our presence in Euroasia. We are pleased to cooperate with ABS Bank who always differentiates its banking services to be at a top level, and we are ready to have more future business towards digital branch transformation including 24/7 self-service banking zone," stated Sergey Nadtoka, Sales Manager at SEDCO.