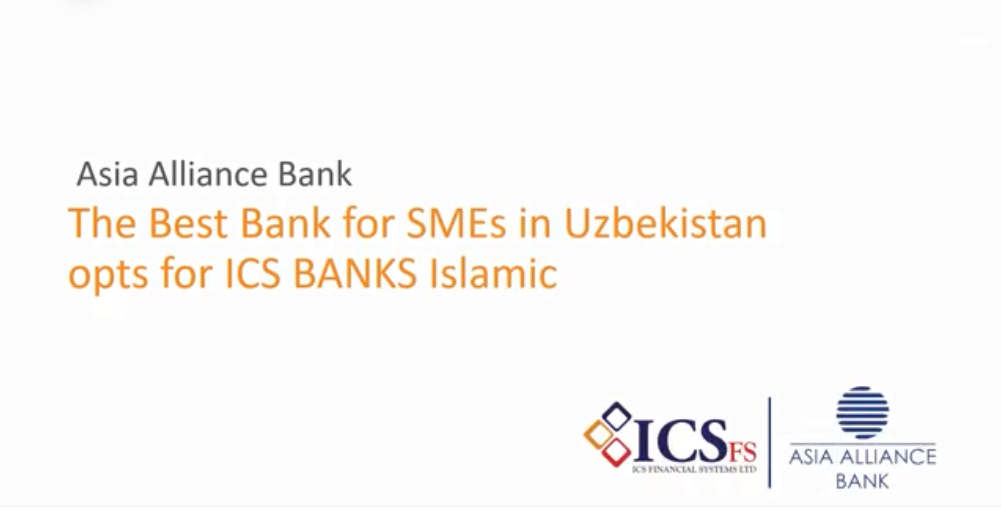 Asia Alliance Bank, multi-awards winning bank – recently awarded "The Best Bank for SMEs in Uzbekistan" by Asiamoney, and one of the leading banks in Uzbekistan, has selected ICS BANKS Islamic Banking software solutionsfrom ICS Financial Systems (ICSFS), the global software and services provider for banks and financial institutions, with the collaboration of the Islamic Corporation for the Development of the Private Sector (ICD).
Being one of the first banks in Uzbekistan in adopting Islamic banking – in compliance with the Shari'a law, Asia Alliance Bank will be heading towards providing its clients with a new holistic banking exposure. We are committed to bring and expand our offerings by implementing innovative and trusted business and technology applications. We are excited about our new partnership with ICSFS, and look forward to a fruitful future.
– Mr. Ikram Abdukakhorov, Chairman of the Management Board – Asia Alliance Bank
Asia Alliance Bank is a universal commercial bank that carries out all kinds of banking operations including servicing of the private and SME sector. Its principal activities are commercial and retail banking operations, transactions with foreign currencies, the origination of loans, guarantees, and letters of credit.
With over 90% of our population being Muslims, we believe many of our clients will be interested in utilising Islamic banking services. We opted for ICS BANKS Islamic Banking software solutions from ICSFS, to provide a fully functional Islamic products and services under the Shari'a law, which will in return, further strengthen our position in the Uzbek banking sector.
– Mr. Umidjon Khakimov, First Deputy Chairman of the Management Board – Asia Alliance Bank
The bank has a strong and competitive market position and has established many partnerships with leading foreign banks where it has gained a strong reputation of a reliable partner. With ICS BANKS Islamic Banking software suite, Asia Alliance Bank will start offering many Islamic instruments of which; Islamic Core Banking, Murabaha, Ijarah, Mudaraba, Musharaka, Salam, Qard Hassan, Islamic Treasury and Investment, Trade Finance, Financing Facilities & Risk Groups, Istina'a and Parallel Istisna'a, Profit Distribution, and Time Deposit.
It is our privilege to be chosen by Asia Alliance Bank, with ICSFS' vast knowledge and experience in Islamic Banking, Asia Alliance Bank will rest assured to receive the bespoke Islamic banking instruments.
– Robert Hazboun, Managing Director of ICSFS
Although we are living in a very challenging times due to the pandemic, ICSFS' strong and solid reputation is paving its way into new regions. Our ICS BANKS Islamic is being used by many of our universal banking clients, adding Asia Alliance Bank to our client community base is a true testament to our succession.
– Wael Malkawi; Executive Director of ICSFS