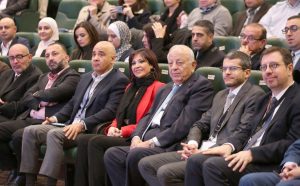 Under the Patronage of Her Excellency Mrs. Majd Shweikeh, Minister of Information and Communication Technology and Minister of Public Sector Development, the "BIG by Orange" summit took place on the 10th of January at the King Hussein Business Park. The summit, organized and hosted by Orange Jordan brought together close to 200 high-level entrepreneurs from the Kingdom, global representatives from the Orange FAB network and investors from different related sectors.
During the opening speech, CEO of Orange Jordan, Jérôme Hénique said that Jordan was selected for the summit for the first time due to its position as a leading country in the field of entrepreneurship, indicating that holding this summit stems from the company's belief in the value of entrepreneurship and its key role in supporting the economy through job creation and its contribution to socio-economic development.
He added that Orange Jordan's organization of this important event comes as part of its commitment to supporting local and international entrepreneurs and giving innovative startups the opportunity  to connect with local and global investors. Entrepreneurs were also given the opportunity  to provide detailed presentations of their projects and discuss them interactively with investors, helping bridge  the divide between the needs and expectations of startups and corporations, thus boosting the entrepreneurial sector in Jordan.
Hénique also talked about Orange Jordan's Business Innovation Growth (BIG) program saying: "We are very proud of the caliber of our startups who join BIG, as they all grow  to become success stories and were all able to benefit from the program, leading them to leverage their businesses and offer the market new services."
During the summit, various stakeholders presented the entrepreneurial ecosystem in Jordan giving detailed explanations, in terms of mapping, statistics, main players and challenges, proposing cooperation strategies for both startups and entrepreneurs.  Local and international startups also shared their success stories and explored possible investment opportunities through Orange Group's investment arm "Orange Digital Venture" (OVD) and others.
Participants felt that the summit organized by Orange Jordan was a real opportunity for entrepreneurs to network, allowing them to meet a number of potential investors, helping in facilitating investment decisions made by companies to adopt the innovative projects, all in all  positively reflecting on the local ICT sector and the overall economy.
During the summit's workshops, success stories were shared, challenges and obstacles faced by startups on a local and international level were discussed in addition to exchanging ideas and solutions. The participants stressed on the importance of investment entities that would adopt the pioneering ideas of startups in order to pave the way for them to launch their business.
Orange Jordan, driven by its five-year corporate strategy Essentials 2020 and inspired by its refreshed Corporate Social Responsibility and Corporate Entrepreneurship Responsibility plan, recognizes its crucial role as a conscious corporate citizen in the community and the inseparability of itself from the Jordanian people. As such, the telecommunications company remains committed to upholding social progress in a variety of ways, focusing especially on the support of the youth and entrepreneurship. Launched at the end of 2015, BIG by Orange Jordan has already assisted many young entrepreneurs to grow their ideas into actions, providing business advice and meticulous technical support to a number of grassroots startups with promising futures.