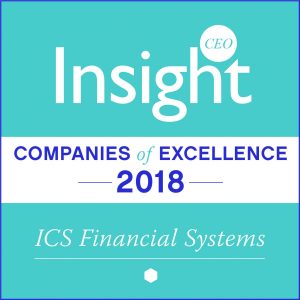 CEO Insight Magazine,the presenter of "CEO Insight Companies of Excellence", have selected ICS Financial Systems Limited (ICSFS), the global financial software and services provider of ICS BANKS for banks and financial institutions, to be acknowledged and listed amongst the top 15 companies in its 2018 Companies of Excellence.
"CEO Insight Companies of Excellence" list acknowledges enterprises that are at the summit of achievement in terms of excellence, influence and professionalism. These companies have a vision that shapes the conceptual landscape of inward investment, finance, business, technology, conferencing, design, architecture and law.
Director/publisher of CEO Insight Magazine, Mr. Jamie Harrison stated;
"Technology rules the day and clearly ICSFS have their finger on their pulse when it comes to fin-tech. They have developed a first class product and service to rival anyone".
CEO Insight Magazine featured ICSFS' digital banking revolution, stating that with the creation of the newest version of the ICS BANKS Universal Banking system, ICSFS is offering clients the integration of financial systems through the Open System architecture and in compliance with international Quality Assurance Standards ISO. This new version has many new out of the box built in features, of which: Business Process Management engine, Document Management engine, SOA architecture, Omni Channels and Digital Banking. Moreover, with the creation of a single digital banking multichannel platform, the aim is to provide safe and efficient interaction mechanisms between the bank and its clients via digital personal banking services such as internet and mobile banking, ATMs, kiosks, bank agents and open ICS BANKS Service Bus and middleware catalogue that insures seamless integration.
ICSFS focuses on enriching the bank customer experience to provide customers with the Omni experience throughout all digital channels and touch points, such implementations improve the confidentiality between the customer and the bank. As artificial intelligence (AI) and machine learning are woven into banking's fold, ICSFS adopted chatbots which will give customers advice on how to optimise their finances and to provide the ability to make all types of transactions integrated with ICSFS digital banking platform.1
Mr. Robert Hazboun, Managing Director of ICSFS, commented;
"We are honoured to be recognised by CEO Insight as one of the "Companies of Excellence" in terms of technology, business, achievements and professionalism." Hazboun added "We are committed to deliver the bespoke FinTech solutions to our customers, and will always support our customers and help them transform from a traditional to an intelligent bank."
ICS BANKS provides a complete suite of banking business modules with a rich sweep of functionalities and features, addressing business needs and automating accounting processes, as needed, to improve a bank's business performance. ICS BANKS has always been a pioneer in utilising the latest technology to serve financial institutions. In addition to its embedded Service-Oriented-Architecture (SOA), the system is deployed in a multi-tiered setup that runs on a web thin client.