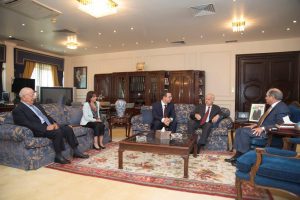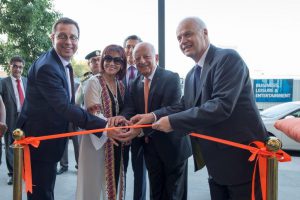 Celebrating Orange Jordan's milestone of moving its new headquarters to the Boulevard, Chairman and CEO of Orange Middle East and Africa Bruno Mettling visited the new building, where he was received by the Chairman of Orange Jordan Dr. Shabib Ammari, the CEO, Jérôme Hénique, executive directors, and employees. During the visit, Mr. Mettling congratulated Orange Jordan's employees and celebrated the move during a formal inauguration ceremony, in addition to having a number of high-profile meetings with Their Excellencies Prime Minister Hani Al Mulki, Minister of Information and Communications Technology and Public Sector Development Majd Shweikeh, and Chairman of the Board and CEO of the Telecommunications Regulatory Commission Dr. Ghazi Al Jbour.
Commenting on the occasion, Chairman and CEO of Orange Middle East and Africa Bruno Mettling said, "On behalf of Orange Group, I would like to express our pride in Orange Jordan's successful move of its headquarters, in conjunction with its ten-year anniversary of Orange Brand in Jordan, which reflects the company's continuous effort to grow, progress, and position itself as a leader in the Kingdom's telecommunications sector. This occasion also provided me with a great opportunity to meet with His Excellency the Prime Minister to reiterate our commitment to the Kingdom as the main European investor. We discussed the difficulties faced by companies operating under high taxation and the need for a better regulatory and tax framework in order to support the industry. In the same mindset, Orange is committing to create a training center in the area of Tafileh to support the development of the local skills in the ICT."
Mr. Mettling went on to say that Orange Group's Essentials 2020 strategy focuses on accelerating the digital transformation of the company's services and customer relationships, while upholding the excellence of its traditional services. Through this strategy, the company is also deeply committed to supporting the wide array of new activities and new jobs made possible by the digital transformation.
Orange Jordan CEO Jérôme Hénique said, "We at Orange Jordan are very proud to celebrate the move to our new headquarters in the presence of Mr. Mettling and under the patronage of Her Excellency the Minister of Information and Communications Technology. The growth and progress that Orange Jordan has witnessed over the last ten years is a reflection of both the hard work of the local team and the global strength of the Orange brand, which stands today as one of the world's leading telecommunications service providers, with a rich history of providing the best possible solutions to our customers in the Kingdom. Orange Jordan will remain committed to fulfilling its promise of playing a strong role in the digital transformation and in the elevation of society across all sectors."
Mr. Henique added, "The Boulevard is more lively, interactive, architecturally appealing, and match company on-going aspirations to remain a digital, caring and a class-A employer as per the 'Top Employer Global 2017' certification awarded to the company by the Top Employers Institute."