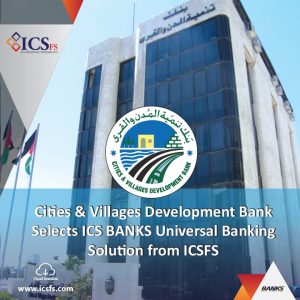 Cities and Villages Development Bank (CVDB), a publicly owned bank that finances Jordanian municipalities for the development of their infrastructure, has selected ICS BANKS Universal Banking software solution – to be deployed on the cloud – from ICS Financial Systems (ICSFS), the global software and services provider for banks and financial institutions.
The Cities and Villages Development Bank provides long-term financing to establish both; services and productivity projects, through the local councils. The bank administrates and guarantees loans held between the councils and any other party, with the aim to support and provide the councils with essential services. The Bank continues as well to contribute in the development process of the local councils, by providing the adequate funds, experiences, services, technical and administrative skills within the government effort in developing and reforming the municipalities.
Cities and Villages Development Bank (CVDB) Director-General; Osama Al Azzam commented: "Our main objective is to support the local council's projects, secure services and participate in their development by way of mobilizing their local and foreign financial resources. To administer that, we needed to change our legacy system with a full-fledged cloud solution to cater to our needs. ICS BANKS from ICS Financial Systems received the highest score in both; technical and total cost of ownership (TCO), alongside providing the most innovative digital environment. We also added Islamic products such as Murabaha, Istisna'a and Ijara, to provide a holistic universal banking products and services on the cloud."
The Cities and Villages Development Bank will be replacing its legacy system by ICS BANKS Universal banking solution, on the cloud, in its Head Quarters and twelve branches. CVDB will be implementing ICS BANKS Core, Credit Facilities & Risk Groups, ICS BANKS Islamic banking products, Remittances, Lending, Budgeting, BPM, DMS, ERP, MIS, and ICS BANKS' digital banking. Part of the benefits that CVDB will be experiencing are automated banking processes, improvements in service provision, business agility, 24-hour availability, reduced operational risk and cost, smart banking, access to a full range of services, more security, seamless digital transformation, and transparency in transactions.
Managing Director of ICSFS, Robert Hazboun stated: "We are honoured to be part of the Cities and Villages Development Bank's important milestone, and to be their technology partner. With our omnichannel capabilities, customer-driven, and cloud-based digital banking solutions, the bank will have the opportunity to be future-proofed, leverage data and acquire desired information at any time, in any place." Mr. Hazboun continued "By choosing our comprehensive ICS BANKS universal banking solution, CVDB will be able to generate new opportunities and exploit the software's utmost key benefits that are significant and reliable to generate a better customer experience ecosystem."
ICSFS invests in its software suites by utilising modern technology in launching new products, constructing a secured and agile integration, and keeping pace with new standards and regulations worldwide. ICS BANKS software suite future-proof banking activities by providing a broad range of features and capabilities with more agility and flexibility, to enrich customers' journey experience, hence improving the trust and confidentiality between the customer and the bank. ICS BANKS has always been a pioneer in utilising the latest technology to serve financial institutions. In addition to its embedded Service-Oriented-Architecture (SOA), the system can be deployed on-premises or on the cloud.