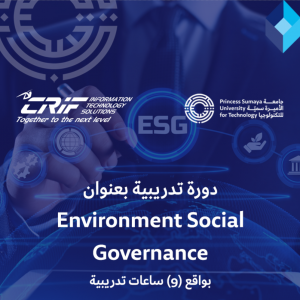 Environmental, social, and governance (#ESG) have gained increasing attention from institutional investors, with many investing only in companies that report on their ESG performance. As a matter of fact, ESG considerations affect analysts and investors, consumers and employees, and have become a major topic of discussion at the board level.
The Princess Sumaya University of Technology, in collaboration with CRIF Information Technology Solutions, has organized a training course during which you will learn how #ESG and #SustainableFinance affect your business from a #regulatory and customer perspective and understand the strategic implications of ESG and Sustainable Finance on the financial industry and learn how it can be a source of competitive advantages in transforming into a sustainability-driven organization.
The key objective of this learning path is to provide a strong understanding of how ESG risk factors may drive #creditrisk in the banking business model and how #banks are adapting to the challenges of becoming more #sustainable.
For more details, please find the below contact information:
Telephone: (962) 6 5359949 – Ext: 5022
Mobile: 079 568 3881