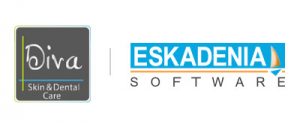 ESKADENIA Software, the leading Jordanian-based software products and technology provider, is delighted to announce that Diva Skin & Dental Care Clinics has selected ESKA® Carenet® clinics management system, ESKA® Clinics, to bring its medical practices to a new level of efficiency.
ESKADENIA provided Diva Skin & Dental Care Clinics with an automated clinic management system that empowers healthcare providers with a secure method of effectively addressing their practices of medical, financial, administrative and regulatory needs.
ESKA Clinics has been designed to enable healthcare providers to manage patient registrations, appointments, cases, referrals and automated alerts. Furthermore, the system supports healthcare providers with case management, recommends treatment plans and provides medical practices with comprehensive financial solutions to process invoices and e-claims. The system also allows doctors to track their daily work in all of their medical cases and follow-up visits.
ESKA Clinics, which is part of ESKA® Carenet® healthcare management suite, can also be delivered on-demand via the Cloud as a SaaS (Software-as-a-Service) solution.
"We are really glad to have the opportunity to work with ESKADENIA Software because of their professionalism and excellent customer service. We look forward to working with them on future projects," GM of Diva Skin & Dental Care Clinics Amer Shehadeh stated.