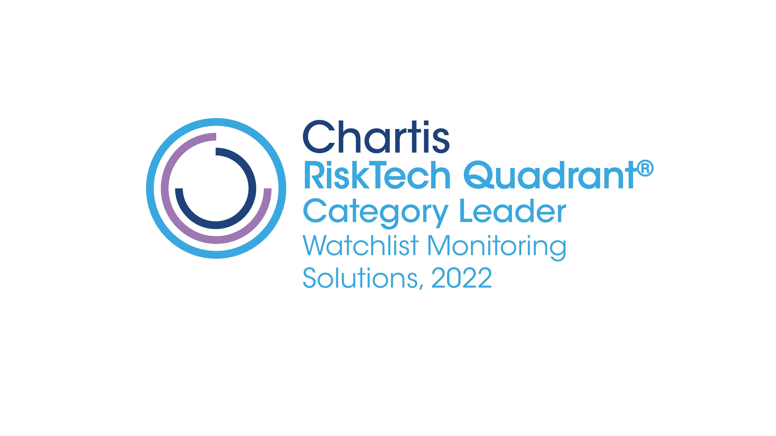 Financial crime compliance risk and payments solutions provider, Eastnets, has been named as multiple category leader in the Chartis Research "Financial Crime Risk Management Systems: Watchlist Screening and Monitoring Solutions, 2022, Vendor Landscape (Part II)" report.
It received the leader rating in all three of the Chartis Research RiskTech Quadrants® for Name Screening, Transaction Screening, and Transaction Monitoring.
Eastnets also received a "best-in-class" score for Transaction Screening for data methodology underlying the strength of its data platform and artificial intelligence (AI) data analytics-driven solution.
There are two Eastnets solutions covered by the report. The first is SafeWatch Screening, which includes the industry-pioneering ChainFeedTM product based on blockchain technology. This provides a secure encrypted solution with Real Time List Loading (RTLL) to update sanction lists automatically, with zero downtime, eliminating human errors and the risk of cyber threats. SafeWatch Screening includes an advanced algorithms and detection engine including fuzzy matching logic with features to reduce false positives. Together with its advanced analytics and business intelligence-driven dashboards provides powerful compliance insights.
The second solution assessed is SafeWatch AML, which includes advanced AI and machine learning capabilities. It offers AI-driven transaction and relationship analytics to create risk scores and identify anomalous behaviors. Unsupervised AI models optimize and calibrate alerts, significantly reducing false positives. It also includes an Investigator Tool, using graphing technology to connect relationships providing context to suspicious transactions.
The report includes a highly competitive field of 24 vendors with Eastnets scoring strongly across the board. Chartis Research, part of Infopro Digital, is a leading provider of research and analysis on the global market for risk technology.
Commenting on the report's findings, Nick Vitchev, Research Director at Chartis, said, "Eastnets' strong, well-packaged set of solutions, combined with its expanding presence across the broad market spectrum, is reflected in its category leader rating for name screening, transaction screening and transaction monitoring. The company has grown into a truly global player in this area, with significant market gains; in our analysis, we also recognized the technical capability of its solutions across the space."
Saeed Patel, Group Director of Product Development Management at Eastnets added, "2022 has seen an unprecedented level of regulatory change with growing demand by financial institutions to manage regulatory risk in real-time. At Eastnets, we strive to raise the bar in customer excellence through providing innovative solutions. We are delighted to be recognized as a leader in all categories in this Chartis report. We're dedicated to helping financial institutions to be safe and to deliver business benefits over and above regulatory obligations."