2022-01-09 01:30
Echo Technology participates in Jordanian Trade and Services Exhibition in Syria
2022-01-09 01:30
---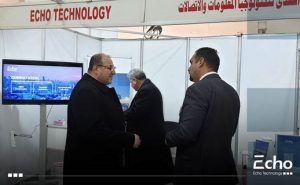 Under the patronage of the Syrian Minister of Economy and Foreign Trade, HE Dr. Muhammad Samer Al-Khalil,  The Jordan Chamber of Commerce and the Syrian Chambers of Commerce are organizing the Jordanian Trade and Services Exhibition, held at the fairgrounds in Damascus, on Tuesday evening for three days. The exhibition had distinguished Jordanian participation from various sectors, where Echo Technology was invited to be one of  the information technology sector representatives
The Head of Jordan Chamber of Commerce, Mr. Nael Kabariti noted that the exhibition constitutes an important economic dimension for further trade relations reinforcement between the two countries and sends a message that efforts are invested in the economic sector of both countries, to launch a different stage of commercial partnership and push it to levels that meets their aspirations and interests.
From his side, the Managing director of Echo Technology, Eng. Yousef Alem commended the efforts made to establish the exhibition and pointed that it will enhance experiences sharing between the two countries, spotting light on rapid development of communication technologies, its tools, and the expansion of their daily use to meet basic needs, made digital transformation an essential requirement confirming that the CIT sector is a vital sector for reviving the economy in both countries.
During the exhibition, Echo Technology is going to highlight its experience in digital transformation, process re-engineering, building systems, websites, and services portals, in addition to mobile applications development. Along with providing its advisory services while considering the sector requirements and needs.