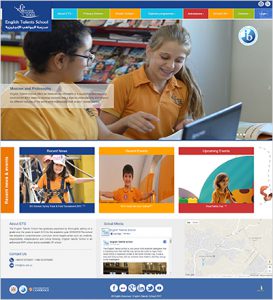 The English Talents School, which aims to develop students to have a mature understanding and respect for various world cultures while maintaining their heritage and identity, recently announced the launch of a new school website ets.edu.jo powered by ESKADENIA Content Management System (ESKADENIA® CMS).
The purpose behind launching the new website is to develop intellectual curiosity, independent thinking and communication, problem solving skills, and a desire for life-long learning enabling students to engage actively in global and local societies. In addition, the website introduces visitors to the school's mission, offerings and overall spirit, and offers an opportunity to publish students' work. The new website allows the school to share valuable information such as a calendar of upcoming events, latest news, and success stories of both the children and the school, etc.
The English Talents School has developed continuously and has in the past few years successfully implemented both the International Baccalaureate Middle Years Program (IBMYP) and the International Baccalaureate Diploma Program (IBDP).
ESKADENIA® CMS provides such simplicity and flexibility that allows the School's webmasters to have full control over the organization's web presence. It also enables them to manage the content online from anywhere, and to benefit from a wide range of rich features without the need for technical assistance or knowledge of programming languages.