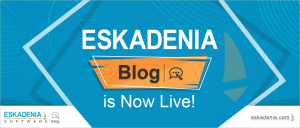 ESKADENIA Software, the leading Jordanian-based provider of world-class software products and services, is delighted to announce the launch of ESKADENIA Blog.
ESKADENIA Blog is a platform where ESKADENIA`s business articles will be published. It aims to share industry knowledge with its visitors through valuable content that covers various professional subjects. It will give readers new insights into improving businesses and organizations using the latest innovations in information technology and recent business trends.
"We are looking forward to contributing and collaborating with our community and business professionals on this new level, sharing knowledge and gaining valuable feedback," said Lotfi Al-Sarori, Marketing Director at ESKADENIA Software.
ESKADENIA Blog will cover numerous subjects (classified by labels). It already contains articles covering general business technology topics across several industry sectors. Articles on using enterprise software to streamline operations in areas such as finance, HR, Supply Chain, and Customer Relationships are now available. New articles will be published periodically and more topics will be added in the subsequent weeks covering various areas including, but not limited to, Telecom, Insurance, Healthcare, and Education.
The site also aims to strengthen the readers' engagement and give them the chance to express their opinions by rating the content and commenting on the articles. Readers can also optionally subscribe to the blog in order to stay informed with the latest published blog articles. Moreover, they can share articles they find interesting with their peers across the popular social media platforms.
ESKADENIA Software is keen to network with the society and business community through spreading awareness about the latest technologies and best industry practices by developing smart business software that meets the rapidly changing market demands.