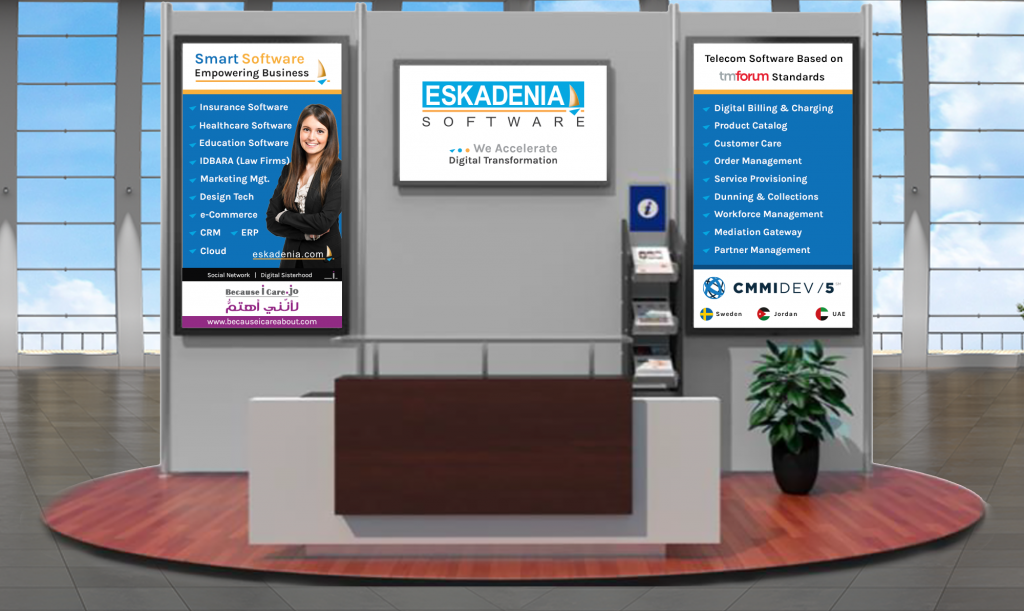 ESKADENIA Software, a leading provider of best-in-class business systems that accelerate digital transformation, took part in the WomenTech Leaders Across MENA Forum 2022. This unique women leadership and innovation virtual forum gather inspirational tech-women impacting the regional business ecosystem. The virtual event was held on the 25th & 26th of January 2022.
​In the accompanying virtual exhibition, ESKADENIA showcased the wide range of its high-tech software systems. ESKADENIA offers medium and large enterprises a variety of business systems for various industries. They include comprehensive software for businesses in Telecom, Insurance, Enterprise, Internet, Education, and Healthcare. ESKADENIA's flexible systems come with a highly intuitive user experience, can be deployed on premise or in the Cloud, and come with an assortment of mobile apps.
The forum included a wide range of sessions and activities to keep participants engaged.  One of the sessions was moderated by Ms. Doha Abdelkhaleq, ESKADENIA`s Managing Partner & Co-Founder. The session was held under the title "Techtalks: Business Perspectives". The interactive session covered various intriguing topics including the contributions of Arab women to technology and the role of women in the future of AI and IoT. Cybersecurity trends, emerging technologies, and how women are driving innovation in financial inclusion and the crypto economy were also among the areas discussed.
"We, at ESKADENIA software, are delighted to participate as a facilitator for the session: "Tech-Talk-Women Business Perspective." The guests were C level technology experts and specialist from all over the Middle East and the discussions covered wide technology topics and projects. I am glad to be part of this conversation in advancement of women in technology," said Doha Abdelkhaleq, Managing Partner & Co-Founder of ESKADENIA Software.