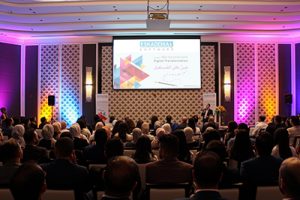 ESKADENIA Software, the leading Jordanian-based provider of world-class software products and services, celebrated its 19th anniversary. The ESKADENIA team celebrated the occasion on the 22nd of October 2019 at the ST. Regis Hotel, Amman under the theme "Accelerating Digital Transformation".
The conference began with insightful speeches by ESKADENIA's management team focusing on this year achievements and strategies for next year. The company`s top management expressed their gratitude and appreciation for the continuous efforts of the employees and welcomed the numerous new hires that have joined the company in the past year, a proof of the company's continuous expansion.
During the conference, corporate trainer Ms. Ghada Qassem conducted an informative session on dealing with change in the workplace and in life. Then our guest speaker, Mr. Robin Langdon delivered an outstanding presentation about the role of technology and telecom in today's business world.
Before ending the conference with dinner, ESKADENIA`s management awarded 2019 top performers in recognition of their devotion and exceptional work.
"I was delighted to have attended such a remarkable event and also be recognized for my efforts; it is such an uplifting experience" said software developer Ashraf Matar after receiving his achievement award.
Nael Salah and Doha Abdelkhaleq founded the company in the year 2000 with the vision of becoming a global provider of world class software products. ESKADENIA Software today has more than 250 employees and exports leading software products to around 30 countries worldwide.