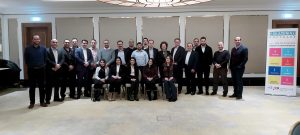 ESKADENIA Software, the leading Jordanian-based provider of software products and technologies, held a two-day Annual Strategy Conference at the Fairmont Hotel, Amman on the 8th and 9th of January 2020 to discuss and commit to the company's strategic plans for the new year.
The Annual Strategy Conference was attended by the extended management group of ESKADENIA to deliberate, refine and finalise the goals and objectives of 2020, as well as to review the achievements and outcome of the previous year. The Conference which has taken place every year since the company's establishment provides a great opportunity for the company's seniors to discuss their targets for each sector of the company for the coming years.
The Conference started with presentations by ESKADENIA founders Mr Nael Salah and Ms Doha Abdelkhaleq, looking over 2019 achievements and highlighting the high-level plans for 2020. This was followed by presentations by the company's Sales and Marketing Directors, Business Units' Managers, and Department Managers. Insightful sessions by ESKADENIA UAE and ESKADENIA Sweden top management were a valuable addition to the conference.
The presentations focused on each Business Unit's objectives and strategies in the financial, products, projects, quality, and competence areas; all with the goal of fulfiling ESKADENIA's mission of becoming a leading global provider of world-class products, services, and solutions that exceed customer/s expectations. Products Managers, Project Managers, and Team Leaders attended the conference to contribute to the strategic planning process. Everybody engaged in discussions to reach optimum objectives and targets, as well as set KPIs for the year.
The strategy conference also included an informative overview of the European IT market and technology trends with the focus on business software in Telecom delivered by Mr Alf Eriksson, the Managing Director of ESKADENIA Software AB – Sweden.
The Conference attendees expressed their satisfaction with the event and strongly felt it was beneficial and necessary to gain greater understanding of the ESKADENIA strategies in order to cascade these to the whole staff.