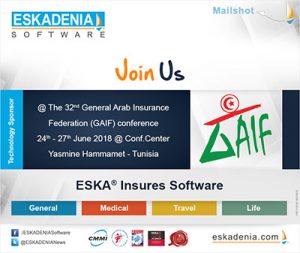 ESKADENIA Software, the leading Jordanian-based provider of world-class software products and services, will participate in the 32nd General Arab Insurance Federation Conference (GAIF 2018); this biennial conference will focus on the "digital transition in the Arab insurance industry". And will take place from 24th to 27th June 2018 in Hammamet (Tunisia).
ESKADENIA Software will support the summit's organizers and attendees with a wide range of products linking all conference details, agenda, speakers and sponsors by activating ESKA® Mobile App on IOS and Android phones.
ESKADENIA Software will showcase, under the title "Towards Digital Transformation", its wide range of comprehensive insurance software products, consisting of ESKA® Insures (General, Medical, Life, Travel, Broker Management System, Banc-Assurance , and E-Insurance Systems), Management Information System, in addition to advanced Financial, Human resources, Customer Relationship Management, Workflow and Document Management Systems through demo sessions, presentations and business meetings with focus on internet and mobile technologies.