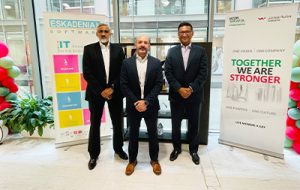 ESKADENIA Software, the premier provider of Insurance Management Software, proudly announces the successful digital enablement of the largest takaful merger in the Middle East between National Takaful Company (Watania) and Dar Al Takaful (DAT).
The National Takaful Company (Watania) and Dar Al Takaful were successfully merged as part of this successful endeavor, creating one of the largest Takaful companies, in the UAE. The technical systems merger started in May of 2022 and was completed within two months. The newly merged entity started using the software systems of ESKADENIA Software in its live operations on the 1st of July 2022. Despite the many challenges and tight schedule, this project was successfully completed thanks to the tireless efforts of the teams at Noor Takaful, Watania and ESKADENIA Software.
ESKADENIA Software's systems were instrumental in facilitating the merger and digitally transforming the merged companies, timely and effectively uniting their operations and data. ESKADENIA Software's systems that are now running in the new business entities Noor Takaful Family and Noor Takaful General, are ESKA® General and ESKA® Medical Insurance Management Systems. ESKADENIA Software also provides the Noor Takaful companies with a group of leading-edge software systems to ensure top-class business management cycles. These systems include ESKA® Financial, ESKA® Approval, ESKA® Notification, ESKA® Wakalah, ESKA® Inventory, and ESKA® Procurement. In addition to empowering internal users with tools to digitize daily operations, the integration with Sales Portals was also accomplished from day one to offer Agents, Brokers, and individual customers the ability to issue quotations, pay online, and issue the policy on the spot.
ESKADENIA Software enables insurance enterprises adapt to the faster-than-ever changes in the IT and Insurance industries by implementing innovative software platforms. ESKADENIA Software's highly successful insurance systems enable insurance firms to meet insurers' dynamic and diversified business demands by digitalizing their organizational and business processes, a must in the Insurtech era.
Noor Takaful provides a series of innovative products and services for its customers, including General Takaful, Motor Takaful, Medical Takaful, Travel Takaful, Commercial Takaful, and Personal Takaful, as well as customized Islamic Insurance products and services to individuals, families, groups, and companies in the UAE market.
Gautam Datta, Chief Executive Officer of DAT, said: "We have the vision and deep expertise to immediately start executing our ambitious plans to build a national and regional Takaful leader that is strongly committed to product innovation, service excellence, productivity, and shareholder value creation."
"Our merger delivered a step-change in DAT's scale and enhanced our financial strength and resilience. Driven by the rich combined talent pool, expanded infrastructure and partner network, and importantly our powerful data-led approach, DAT is very well positioned to reach and meet the needs of a wider client base in the UAE addressable market and beyond.
The Takaful/insurance industry is on a growth trajectory as the region emerges into a new era following the worst impacts of the pandemic. We are building a strong, scalable, and adaptable business model that is based on best practices and underpinned by clear values that will be able to meet the changing demands of customers and the overall market," he added.
Martin Sebastian, Chief Information Officer of DAT said: "Time was the critical element in the whole integration process as we had just two months to set up both General & Family companies.  Watania being an existing client of ESKADENIA and with a stable environment for over 11 years has helped us to take decision on target core insurance system without any doubts. Multi-company feature of ESKADENIA system helped us in establishing things fast. Watania's digital platforms were integrated with ESKADENIA APIs earlier and we managed to bring in all those as well during this integration process, which connects over 150+ brokers and 700+ users. Quite a good feat of achievement for the entire team in DAT & ESKADENIA."