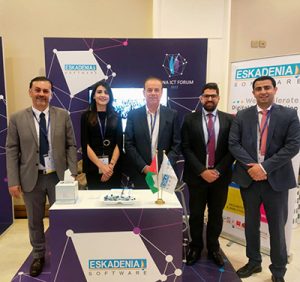 ESKADENIA Software, the leading provider of business software products and technologies, participates in the 2022 MENA ICT Forum as a sponsor and presenter. The event was held under the patronage of His Majesty, King Abdullah II bin Al-Hussein. The conference took place on the 16th and the 17th of November 2022 at King Hussein Bin Talal Convention, by the Dead Sea in Jordan.
The premier two-day technology forum brought together regional and international business and technology leaders to spread awareness and discuss the future of information technology in the region. The forum aims to address how technology can help solve the world's pressing business problems of today. The event was represented by companies from 40 countries with more than 2000 delegates attending. There were more than 145 speakers from all over the world who conducted around 95 sessions and presentations.
During the conference, the ESKADENIA Software staff conducted live demos and presentations of the company's comprehensive range of advanced software systems. ESKADENIA Software's systems are tailored to enable the digital transformation of businesses in various industries such as Telecom, Insurance, Education, Healthcare, Consumer Goods, Manufacturing, and Legal.
Mr. Nael Salah, the Managing Director of ESKADENIA Software joined a panel discussion on "The Five W's of the Magic Recipe for Growth for Corporates, SMEs & Startups". Guiding principles for expansion, service innovation, product development, and market entry were just a few of the topics discussed in this insightful and helpful session. Mr. Nael Salah shared ESKADENIA Software's journey to becoming a market leader in business software giving an inspiring example for attending entrepreneurs and business managers.
"Our ambition has always been to grow globally. We initially established ourselves locally, before going regionally and internationally. We are presently in 25 countries, and we are looking to expand much further." Stated Mr. Nael Salah in his motivational speech.
Being a part of the MENA ICT Forum was a great opportunity for ESKADENIA Software to network and connect with business executives, technologists, and other organizational leaders. ESKADENIA Software seized this chance to announce the latest product developments, and reinforce awareness of  its wide range of advanced products and expertise in the region and internationally.