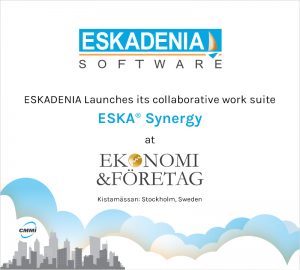 ESKADENIA Software launches ESKA® Synergy, its collaborative work suite, at Ekonomi & Företag – Kistamässan 2019 in Stockholm, Sweden. Ekonomi & Företag is Sweden`s largest local ERP conference bringing together long-standing industry giants as well as new companies and start-ups with some of the latest innovations and technologies. Ekonomi & Företag 2019 takes place on the 25th and 26th of September 2019 in Stockholm, Sweden.
ESKA Synergy is a Smart Teamwork Platform designed to enhance team projects in an organizational, flexible, and collaborative experience.  The plug-and-play software suite scales with small and large teams, covering everything from task management and project planning to automated recruitment and payrolls.
During the conference, ESKADENIA's product managers and ERP industry specialists from Sweden and Jordan will introduce ESKA Synergy which incorporates ESKA® Time Tracker, ESKA® HR & Payroll, ESKA® Financial, and ESKA Content Management System.
"We're really looking forward to showcasing ESKA® Synergy at Ekonomi & Företag this year. Synergy has the potential to greatly minimize redundancy and boost team efficiency by seamlessly merging Team, Organizational, and Financial processes onto one platform. We're proud of how far we've come and we can't wait to show Synergy alongside local industry experts in Sweden."  Jamil Martin, Product Manager.
ESKADENIA Software will also present its wider range of software products and solutions developed using the latest technologies and standards, tailored to the ever-growing technical and business developments of the Swedish ERP Market.