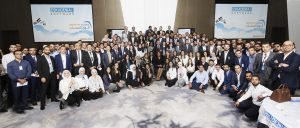 ESKADENIA Software, the leading Jordanian-based provider of world-class software products and services, held its 18th Annual Conference themed "Above the Clouds" on the 24th of October 2018 at the W Hotel Amman. The Annual Conference recapped ESKADENIA's achievements throughout its 18 years in business and emphasized next year's benchmarks and visions.
ESKADENIA Software's top management presented the corporate strategy for the next years and expressed their satisfaction of recent employee performance and looked forward to upcoming achievements. During the conference, Managing Director of ESKADENIA Nael Salah and Executive Director Doha Abdelkhaleq recognized and awarded top performers for their devotion and remarkable work.
The conference agenda included inspirational speeches by ESKADENIA's management team followed by a session by Mr. Marwan Juma, CEO of Oasis500 and former Jordanian Minister of Telecommunications & Information Technology.
Employees of ESKADENIA Software were happy to hear about their past accomplishments and welcomed future challenges. "The conference was great and it is always a proud moment to see how much the company has thrived" said Ruba Asad, Product Manager at ESKADENIA Software.
Nael Salah and Doha Abdelkhaleq founded the company in the year 2000 with the vision of becoming a global provider of world class software products. ESKADENIA Software today has more than 230 employees and exports leading software products to around 30 countries worldwide.