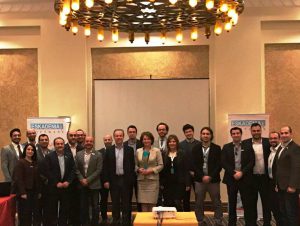 ESKADENIA Software, the leading Jordanian-based provider of world class software products & services conducted its 2017 Annual Strategy Meeting with the presence of the Company Management and Sales Teams to recap its strategic plan, goals and objectives. The meeting took place at The Movenpick – Dead Sea on the 12th of January 2017.
ESKADENIA Software's Strategy Meeting started by a presentation by the Managing & Executive Directors of the Company that reviewed the achievements of the previous year and the broad objectives of 2017.  The Business Units Managers presented their objectives that included Financial, Products, Projects, Competence and Personal Targets for the current year and their strategies to achieve these objectives. All were guided by the Mission of the company to become a leading and global provider of World-Class Products, Services and Solutions that exceed customers' expectations.
A number of sessions were conducted to discuss and agree on a set of achievable yet aggressive objectives that each has responsible champion within ESKADENIA. The sessions were led by the ESKADENIA Software's Department Managers who discussed the department's objectives, requirements, plans and the methods to achieve the desired goals.