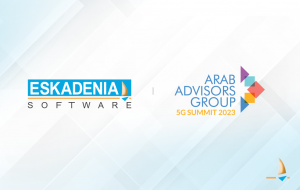 ESKADENIA Software, a leading provider of best-in-class business systems that accelerate digital transformation, is delighted to announce its technological sponsorship of the 17th edition of the "5G Summit" organized by the Arab Advisors Group. The summit will take place on June 6, 2023, at the Ritz Carlton Hotel in Amman, Jordan.
The one-day summit aims to guide participants, from thought leaders to C-level executives, on the latest developments and opportunities in 5G technology. Throughout the event agenda, a diverse range of topics will be discussed. The topics include; 5G for a better future, 5G Challenges and Opportunities, the business case for 5G and 5G Beyond, and finally how the 5G technology is releasing new different opportunities for industrial applications.
ESKADENIA is known for its wide range of software products. The company's software products have been adopted by individuals, businesses, companies, and organizations in many areas of the world.
ESKADENIA Software advanced products are built using the latest telecommunications technologies and as in accordance to the TM Forum standards. The products meet the evolving needs of Communications Service Providers (CSPs), and ensure that they meet the highest industry standards. ESKADENIA`s comprehensive range of Telecom products includes Customer Relationship Management, Fulfilment, Collections, e-Payments Switches, Messaging & Notifications, Sales & Marketing, and Charging & Billing.
"5G is the newest GSM cellular network standard that will certainly have a profound impact on accelerating technological advancement in most walks of life. The deployment of 5G started in some countries a few years ago but will be now accelerated. Individual and businesses will gain from the much higher data download, reduced latency, and enhanced capacity to empower the future of the "Internet of Things". Said Mr Nael Salah, Managing Director and Founder at ESKADENIA Software.
As a key player in the software industry, ESKADENIA Software is committed to supporting events that foster innovation and promote digital transformation in the region. From its dedication to driving innovation and advancing software fields, ESKADENIA is thrilled to be sponsoring this conference and considers it an opportunity for professionals in our industry to connect, learn and exchange ideas.