2021-02-15 01:57
ESKADENIA Sponsors the 1ST Financial Virtual Expo in MENA
2021-02-15 01:57
---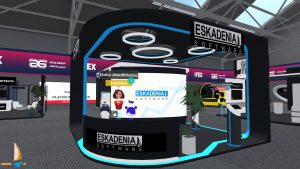 ESKADENIA Software, a leading provider of best-in-class business systems that accelerate digital transformation, took part in the International Financial Virtual Expo (IFEX), the first financial virtual Expo in the MENA region. The conference was held on the 10th  & 11th of February 2021.
ESKADENIA participated in the Expo as a sponsor and showcased its range of payment, banking, enterprise, and customer management software products. The products included ESKA Payment Switch, ESKA Digital Wallet, ESKA Financial, and ESKA Analytics. ESKADEINA systems for managing online and mobile banking as well as customer relationships and feedback were also presented. In addition, ESKADENIA exhibited its customized portals and mobile apps along with other advanced systems that help reduce operational cost, increase revenue, and boost customer engagement.
IFEX Virtual Expo was a success where traders, brokers, entrepreneurs along with other fintech experts in areas such as banking, payments, and blockchain connected through this virtual event. The event created an exceptional environment as it was accessible from anywhere in the world and available on all devices 24 hours a day. It helped build meaningful connections among attendees using chatting tools, virtual halls and booths, video conferencing, and audio calls.
"Being part of IFEX Virtual Expo was an opportunity for ESKADENIA to remain connected with the industry, promote business, and instigate relationships with potential customers, industry professionals, and other sector companies," said Doha Abdelkhaleq, Managing Partner & Co-Founder of ESKADENIA Software.
Due to the coronavirus pandemic, many events have gone virtual, and ESKADENIA staff were delighted to have a new method of overcoming the obstacles of social distancing and engaging people worldwide. The team was pleased with this unique experience and networking opportunity. ESKADENIA is eager to keep up with the latest trends by expanding its networks and knowledge in multiple sectors.