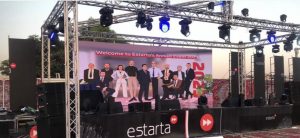 Estarta held its annual event in an exceptional and unforgettable way on Friday, August 18. Prominent guests, including the Minister of Digital Economy and Entrepreneurship, and valued partners were there to honor the occasion. This year's event took place at the historic Amman Citadel, which gave the celebrations a touch of grandeur.
As for the event site, the Amman Citadel added a unique dimension to the celebration. Nestled on a hill in the heart of Amman, the Citadel is a historic site that dates back to ancient times. Its stunning views and rustic ruins provided a captivating backdrop for the event, blending the old with the new in a way that symbolizes Estarta's approach to technology: building on a strong foundation while embracing the future.
Overall, the night was filled with enthusiasm and profound enjoyment, and the team was able to blow off some steam after months of hard work. The celebration included both a look back at what had been accomplished as well as a forward-looking, positive outlook. The company's aim to keep pushing boundaries, to keep innovating, and to have a positive impact was collectively reaffirmed by the palpable energy in the air.
After over three decades on the scene, the company proudly celebrated its 1500+ professionals under its umbrella, with a noteworthy percentage of them being females, during this event. This number is particularly impressive considering the ICT sector has traditionally been male-dominated.
The annual event served as a reminder of the company's lasting spirit of advancement, its commitment to its partners and clients, and its role in influencing Jordan's digital landscape as Estarta enters its 33rd year. Cheers to another year of disruptive innovation and greatness!