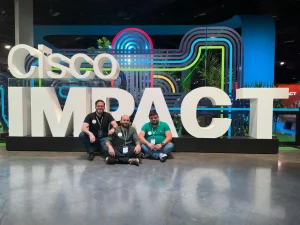 Amidst the hustle and bustle of Las Vegas, Nevada, the Estarta Presales Team was recently making waves at the esteemed Cisco Impact 2023 event.
Cisco Impact: An Overview
Cisco Impact is not just any tech event; Cisco executives and business leaders gather at Cisco Impact, a worldwide sales team gathering, to acquire knowledge, develop plans, honor, and explore new potential.
Annually, Cisco Impact serves as the beginning of the company's fiscal year. For Cisco's sales teams and business partners, Impact is a key internal event. The gathering of staff members, executives, and business partners is intended to promote networking and discussion of strategy, product updates, and market trends.
Estarta Team: A Commitment to Excellence
Khaled Al Dari, Mohammed Telfah, and Raed Ahmad Abu Hajleh make up the Estarta Presales team members that are attending the Cisco affair. As it were, not only are they attending Cisco Impact, but these three professionals are also representing Estarta on a very large scale globally. This stamp symbolizes the company's commitment to innovation and excellence.
The Presales (War Room) team spoke with the global sales personas and gave them sales tools and competitive analytics to better position Cisco goods and solutions against competitors. In order to close agreements, they also gave insights on objection handling and highlighted significant differentiators.
Additionally, the group promoted Win Center services that Cisco teams would use this fiscal year. These services aid in establishing Cisco's products as consumers' first option and assist in overcoming threats posed by competitors.
Estarta's Impact at Cisco Impact
Estarta's presence at Cisco Impact is projected to reverberate on a globe-wide scale.