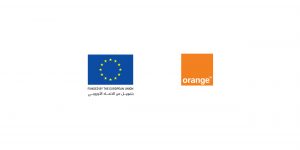 The European Union and Orange Jordan signed a €7.3 million agreement to create a new Innovation Space that promotes private sector-led innovation and digital economy in Jordan.
The EU-funded Innovation Space is a pioneering initiative in Jordan and a one-stop-shop for digital innovation and entrepreneurial support. It will introduce digital culture to the wider Jordanian public, foster digital skills, especially among women and youth, and promote and nurture entrepreneurship by identifying key opportunities for digital economic growth. The Innovation Space is co-funded by the European Union's "Innovation for Enterprise Growth and Jobs" programme, also known as Innovate Jordan.
The Innovation Space will utilize and expand existing digital centres affiliated with Orange Jordan, to catalyse investments to ensure that Jordan's nascent digital economy and innovation culture mature. The project also aims at boosting social inclusion, with a special attention to women and youth.
Twenty-three digital centres across Jordan will be renovated or established, as well as five new coding academies, five new FabLabs, five new BIG (Start-ups' Growth Accelerators) , three new incubators across the country and an aggregating Innovation Hub at Orange Digital Village in Eastern Amman .
EU Ambassador to Jordan Maria Hadjitheodosiou said, "I am delighted to launch this new project with Orange Jordan to support digitalization and innovation, which will boost economic growth and job creation. Through this initiative, we will invest in young entrepreneurs and innovators with cutting-edge ideas, whilst also supporting digital innovation education and skills. We also strongly believe that innovation and a digital economy can help alleviate the socio-economic consequences of the COVID19 crisis."
CEO of Orange Jordan Thierry Marigny said: "We are proud of our partnership with the European Union for such an important project that will promote innovation and support entrepreneurship to accelerate economic progress, this is a stepping stone towards digitalizing the economy, which is consistent with Orange Jordan's strategy".
Marigny added: "We are happy that this collaboration will enable the expansion of our current programs leading to the maximization of positive impact on society in terms of quality, number of beneficiaries and wider footprint in the Jordanian governorates".
It is worth noting that the execution of this 3-year project will start this year.