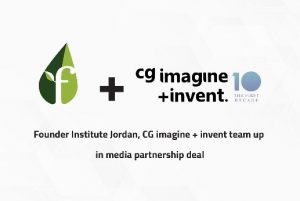 The world's largest pre-seed startup accelerator, Founder Institute, has signed a media partnership deal with the Digital Marketing Agency CG imagine + invent, for the launch of the Pre-Seed Startup Accelerator in Amman, Jordan.
The Silicon-Valley based program has chapters in over 200 cities worldwide, it helped launch over 4,500 companies across six continents.
CG imagine + invent develops and implements imaginative solutions to help businesses in many sectors grow, with work spanning web, mobile, social, product innovation, and brand development.
Fady Santarissy, the managing partner of CG imagine + invent, stated that this chapter launch in Jordan will be a turning point in the startup industry in Jordan, and he also stressed the great opportunity the program creates for the entrepreneurs and country-level innovative
Santarissy also added that the launching of the Founder Institute program in Jordan will bring a lot to the Jordanian startups, will make a great development for the startups' ecosystem, and will help support the Jordanian youth in many ways.
"In a nutshell, Founder Institute Jordan will act as a 'wartime counsellor' to startups in Jordan."
It is worth mentioning that CG imagine + invent has crafted and is now executing a 360° marketing campaign with a comprehensive strategy to cohesively deliver the message of the program consistently across all touchpoints and platforms.
CG imagine + invent is handling all the media channels and communications. Which incorporates: digital marketing and all aspects of social media marketing including strategy design, content creation, and promotion. In addition to managing influencer outreach and handling public relations.