We all were shocked by the oxygen shortage disaster in the government-owned Salt hospital yesterday (source). Inefficiency and ignorance is causing death and tragedy this time and in the 2nd biggest hospital in Jordan — a country known for decades as a center of excellence when it comes to healthcare in the region.
Mexico, Nigeria and Egypt faced similar tragedies that are looking for effective solutions beyond resignations, investigations and pointing fingers.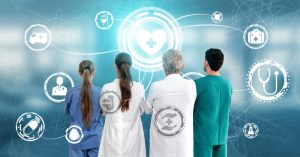 Many people focus their argument on corruption and government inefficiency and I can't agree more. But how to handle such irrsponsible work culture in the public sector at large and the healthcare sector in specific? You definitely need a digitally transformed government!
It's no longer a dream to have a robust realtime dashboard accessible to the minister and all leadership team with error-proof notification system that is designed not to have a single point of failure like current systems. For example, cloud-based solutions wouldn't limit notifications to workers inside the hospital -who might be ignorant or absent- but extend that to all stakeholders on their phones whereever they are with taking into consideration an escalation priority. Also such cloud-based systems will create automated reports that shall measure performance over time reading from all machines (simple and mission-critical) and most importantly- customers! Unfortunately current management style of publicly-owned hospitals neglects customer feedback. So decision makers will never be able to fix bad patient experience. Zero-customer-centricity.
Inefficient workers would definitely hate an IT enabled system that measures real performance and increase accountability and transparency.
Introducing IoT for hospitals
One key example of digital transformation in medical sector is the internet of things (IoT). Apart from tracking patients' health, IoT devices can be used in many other areas in hospitals. IoT devices embedded with sensors are used for monitoring the real-time location of medical equipment, including nebulizers, wheelchairs, oxygen pumps and other equipment.
Hospitals also have to deal with the spread of infection that is the primary concern for them. IoT-based hygiene monitoring devices assist in preventing patients from getting the infection. For example, smart IoT-enabled cameras can detect if patients are washing or sanitizing their hands before taking a meal or medication or visitors are not sitting close to the patient.
Also, IoT devices can help in managing assets, for example, monitoring refrigerator temperature and humidity.
I hope country leadership in Jordan and many developing countries around the world would take digital transformation initiatives in healthcare as seriously as they as do for ones focusing on government services.
Mohamad Khawaja
Strategist. Design Thinker. Business Model Innovator.
https://mkhawaja.medium.com/from-tragedy-to-transformation-2649b92e96e0