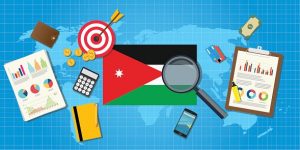 The Deutsche Gesellschaft für Internationale Zusammenarbeit (GIZ) GmbH, Orange Jordan and the Jordanian Information and Communications Technology Association (int@j) are partnering to launch a study that will explore and measure the impact and contribution of start-ups in the Jordanian economy with a special focus on technology and tech-enabled startups.
The study being implemented by Impact MENA, aims to provide key stakeholders with an overview of start-ups' contribution to national economic development, enabling them to better plan and contribute to a conducive environment that fosters start-up growth and development. The study will also propose a definition of start-ups for the Jordanian context and provide recommendations to decision makers and business leaders.
"The study is part of our project's efforts to support the entrepreneurship ecosystem in Jordan. A clearer understanding of start-ups' role in the economy – including their direct and indirect contributions to economic growth and innovation – shall provide decision-makers, sector leaders and other stakeholders with an important basis to more effectively build an enabling environment for start-up growth and development." said Diana Hollmann, team leader of the GIZ "Employment-oriented MSME promotion" project which is one of several GIZ projects working on employment promotion in Jordan.
Hollmann pointed out that the study will not only help to build a better understanding of start-ups economic contribution but also to develop a more common language amongst ecosystem stakeholders. This will underpin further important efforts such as the development of policies catered to strengthening start-up growth in the Kingdom. This includes a Startup-Act currently under discussion as an ingredient for creating a conducive environment for startups in Jordan.
A high-level committee will validate the different stages and outcomes of the study and provide recommendations on how to better align the results with the needs of the Jordanian economy. The committee brings together respected decision makers, experts, business and social leaders from various fields to provide advice and support.
Orange Jordan's CEO, Terry Marini, stressed on the importance of creating the right base for growth for start-ups, pointing out that this study will be a reference point to sector actors that seek to support entrepreneurial-based businesses in Jordan.
He added that the study complements Orange Jordan's support for start-ups and entrepreneurs. The company manages its program to accelerate the growth of startups (BIG), which reached its sixth season this year with great success.
Bashar Hawamdeh, chairman of int@j, stressed on the importance of the study as being in line with the recently launched online platform by int@j: www.startupsjo.com, which supports business start-ups by connecting them with investors and ecosystem stakeholders.
Hawamdeh pointed out that this study provides all actors with concrete evidence on how entrepreneurs and start-ups are drivers towards transforming Jordan into a digital economy creating more jobs as per the royal initiative REACH 2025. He added "The study outcomes will be a base of the 'Startup-act' that int@j is currently working on with relevant stakeholders."
The study outcomes will be published early this year with findings to be presented in a workshop that will include partners from all relevant actors in the ecosystem.