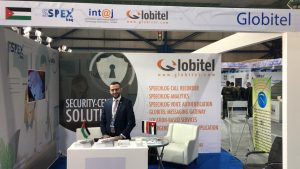 Globitel, a leading provider of customer care and telecom solutions, announces the successful conclusion of its participation in the 2018 SSPEX exhibition in Iraq. The 3-day event took place in Baghdad, Iraq on December 16th till December 18th.
SSPEX exhibition has allowed Globitel to network with leading international and Iraqi government institutions and ministries to exchange valuable insights into the needs of the country's infrastructure and population in terms of security and safety through software technologies.
Security in a New Iraq
The exhibition's purpose is to gather corporations and institutions from various parts of the world to contribute to the structural integrity of Iraq's security and the government institutions responsible for the country's safety on all fronts. International companies arrive at the event to share their expertise and present the tools through which the objectives of the event are meant to address.
Security-Centric Solutions
At the event, the highlights were Globitel's security-centric solutions which included the call recording solution SpeechLog Call Recorder that functions on a basis of solid security for contact centers at government institutions and ministries. In addition to SpeechLog Analytics which helps guarantee compliance and has a more valuable function of predicting needs of callers and ensuring a service experience to elevate the caller experience.
SpeechLog Voice Authentication, one of our newest solutions, adds another level of security by authenticating callers through voice as well. Emergency Call Center Application (E-911) is another staple of government institutions; for help centers to provide accurate geographic information for emergency dispatchers in the event of fires, medical emergencies, security concerns, crime, etc.
For the People
Since the event has one thing in mind, which is security, Globitel's additional offerings are an asset for government institutions and their stable functioning. Our services' capabilities are required for any institution that works for the people. The solutions include Location-Based services and Globitel Messaging Gateway; a mass messaging tool. Both are integral to institutions that are involved in the servitude of civilian populations to provide a more efficient way of living and establish secure and direct contact with them.
Globitel's VP, Fadi Qutaishat, on Globitel's experience at the SSPEX exhibition;
"We arrived in Iraq excited about being part of the conversation and exchange of information and expertise about the central topic of a new Iraq; one that will be equipped with an infrastructure strong enough to handle security threats, modernized populations and public services, and more. At the event, we met important decision makers and figures in Iraq's government to better learn about their needs and requirements to foster mutually beneficial relationships and partnerships for future cooperation."
Qutaishat continued,
"The 3 days at the event were extremely enjoyable and productive. We were also eager to talk about how we can contribute to Iraq's institutions, from the telecom industry to contact centers to the Internet of Things. Our SpeechLog Suite had all the elements any security-conscious institution needs. Such as liability recording with a secure base, speech analytics technologies intended for understanding caller needs and ensuring compliance, and voice authentication technologies for an added level of security of authenticating callers through voice characteristics. In addition to our Emergency Call Center Application (E-911) for the purpose of providing all geographical information of an emergency call for swift action by firefighters, medical assistance, police, etc."
Qutaishat summed up;
"We left Iraq with an invigorated sense of purpose that we will work diligently towards fulfilling in our future partnerships with Iraq's institutions. We met some wonderful people and had truly productive and eye-opening conversations into what the new Iraq will look like; protected, secured, and most importantly, happy. SSPEX was meant to attract and gather the brightest minds in the region for a networking fest that has absolutely yielded desired short-term and long-term results and we are honored we got to be a part of it."