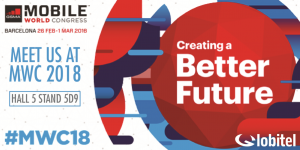 Globitel, the leading provider of global telecom solutions, will participate at the 2018 Mobile World Congress. The event will take place in Barcelona, Spain on February 26th till March 1st and our booth will be within the Jordan pavilion.
As one of the most high profile and successful events in the world, the MWC is a fantastic opportunity for businesses to network and learn about the latest trends in the telecom industry.
Globitel participates every year to cement our position as a market leader in the MENA region, create new business opportunities, expand our partner network, further learn about industry needs to better serve our clients and more.
We will be introducing our top new solutions including speech analytics technologies, voice authentication system, and contact center social media and back office quality management solutions.
We have also branched out into IoT technologies. The solutions include agriculture, water, gas, electricity, solar, water, waste, as well as smart homes and industries.
Approaching our 12th year at the event, we are looking forward to expand our expertise on everything to do with the mobile communications industry. With almost 100,000 visitors attending, we won't be short of influencers and industry leaders sharing their knowledge.
MWC gathers prominent executives representing mobile operators, device manufacturers, technology providers, vendors and content owners from all over the world; key players within the communications industry that help define the industry's future.
"MWC season is always an exciting time for us. We get to network, learn about new products and client needs, introduce needed technologies to the market, and build better relationships with our clients. With every return from MWC, we develop new and innovative products to keep up with the top trends of the year." – Mr. Fadi Qutaishat, Vice President at Globitel.