We are delighted to announce our strategic partnership with leading Global Training and Certification Organization ISC2, Green Circle with its commitment to provide the best capacity building programs for professionals across the Middle East in the Cyber Security Domain added one of the most powerful certifications to be offered to the market by this partnership leading courses like CISSP will be offered in Jordan, Iraq, and Kuwait more frequently and with experts with certified ISC2 instructors.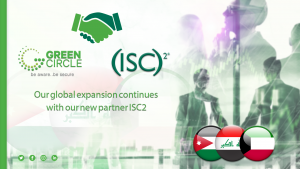 ISC2 is an organization that offered one of the most recognized and accredited certifications with international certification bodies.
ISC2 expand its market to cover more geographical areas like Jordan, Iraq, and Kuwait through selected professional certified partners and to support IT / Security works to improve their careers.
Green Circle is an IT company specialized in Cybersecurity and software solutions and it was successful in securing projects in Jordan and Saudi Arabia & GCC countries. We embarked middle east market for managed IT & security services after instating our state-of-the-arts Security Operation Centre (SOC) which provides 24X7 monitoring services at Jordan University of Science and Technology, Jordan. Green Circle Company has the objectives of providing qualitative Security consultancies services and solutions to the Government's networks and corporate businesses.