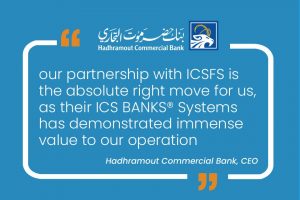 Hadhramout Commercial Bank (HCB) has successfully gone live on ICS BANKS® Awards-winning, Innovative Core banking, Digital Banking, and Islamic Banking solutions from ICS Financial Systems, (ICSFS), the global software and services provider for banks and financial institutions.
 Hadhramout Commercial Bank is a newly established Yemeni bank with a mission to become a leader in providing modern banking and financial services specifically catered for individuals and businesses from all sectors and aiming to support the recovery and flourishment of the Economic climate in Yemen.
In pursuit of their mission, HCB has opted for several Core Banking Modules from ICSFS, including Credit Facilities and Risk Groups System, Lending, Remittances, Trade Finance, ERP System, Finance Leasing System, and Regulatory Reports System; in addition to ICSFS's awards-winning Digital Banking and Islamic Banking Software Solutions; thus, giving them a solid foundation for a rapid and consistent growth in the Yemeni Market.
This is a very delicate time for the economic climate in Yemen, and the need for modern and future-proof banking services has become more integral to its sustainability than ever. We believe that our partnership with ICSFS is the absolute right move for us, as their ICS BANKS® Systems has demonstrated immense value to our operation and has given us the power to enter the market with a better competitive edge.
We look forward to expanding our operation in the Yemeni and Regional Market, and we are relying on the continuous support of ICSFS to realize our goals and make them a reality.
– Mr. Khaled Gabr, General Manager, 
Hadhramout Commercial Bank
The first phase of this greenfield Implementation took place in the Bank's headquarters and one branch, after which HCB has attested to the system's versatile capabilities and flexibility, not to mention it's open API backend which allowed them to seamlessly connect to all third-party services and systems necessary to their operation. Moreover, HCB were particularly pleased with ICSFS's ongoing consultation and support throughout the selection, implementation, and training phases.
It is our pleasure to welcome Hadhramout Commercial Bank amongst our growing list of valued clients, and our privilege to be part of a new era emerging in the Yemeni Banking and Finance market. Over the past few decades, our Awards-winning ICS BANKS® system has proven time and time again its advanced capabilities, its out-of-the-box functionalities, and its bespoke value in meeting all the requirements of our clients. Our first and foremost priority is our clients, and I am counting on our team of professionals to remain on top of their game helping HCB realize what they set out to achieve.
– Mr. Robert Hazboun, Managing Director, 
ICS Financial Systems Ltd.
ICSFS invests in its software suites by utilising modern technology in launching new digital products, constructing a secured and agile integration, and keeping pace with new standards and regulations worldwide. ICS BANKS® software suite future-proof banking activities by providing a broad range of features and capabilities with more agility and flexibility, to enrich customers' journey experience, hence improving the trust and confidentiality between the customer and the bank. ICS BANKS® has always been a pioneer in utilising the latest technology to serve financial institutions. In addition to its embedded Service-Oriented-Architecture (SOA), the system can be deployed on-premises, hybrid, or cloud.