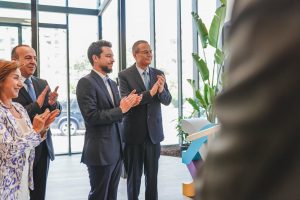 HRH Crown Prince Hussein on Thursday inaugurated JOIN Fincubator, which aims to enable fintech innovations, facilitate digital financial services, and contribute to the development of a sustainable digital economy in Jordan. JOIN Fincubator was established in line with the Economic Modernisation Vision, which identified financial services and the empowerment of fintech among key enablers for the national economy, according to a Royal Court statement.
Crown Prince Hussein stressed the importance of youth-led innovations in developing the fintech sector in Jordan, noting that the private sector stands to benefit greatly from investing in the potential of young Jordanians. JOIN Fincubator is a unit of the Jordan Payments and Clearing Company (JoPACC), which manages and operates several Jordanian payment systems and develops innovative digital financial solutions, and is owned by the Central Bank of Jordan (CBJ) and all the other banks operating in the Kingdom.
The Crown Prince listened to a briefing by JoPACC CEO Maha Bahou on the goals of JOIN, which provides entrepreneurs with access to digital financial infrastructure and a sandbox to validate, and develop their fintech ideas. Bahou added that JOIN promotes a digital culture that encourages launching innovative fintech projects that enrich the digital financial ecosystem and create new job opportunities, contributing to enhancing Jordan's reputation as an attractive investment destination. JOIN's reach extends to innovators from Jordan and beyond, provided that their ideas and projects are applied within the Kingdom, ultimately driving growth in the digital economy, she continued.
His Royal Highness also viewed entrepreneurial solutions developed by youth who participated in JOIN Fincubator's first hackathon, which was organised by JOIN several weeks before its official opening and presented a challenge in the financial sector that required participants to work collaboratively in teams to develop fintech solutions. Of the 23 teams that participated, three won the hackathon and will participate in JOIN's incubation programme, which begins in early July and is expected to include more than 30 entrepreneurial teams. JoPACC Chairman and CBJ Governor Adel Al Sharkas, Deputy CBJ Governor Khaldoun Wishah, and representatives of banks supporting JOIN attended the inauguration ceremony.