2022-11-17 11:26
Huawei highlights "5G Leads the Stride" at MENA ICT Forum 2022
2022-11-17 11:26
---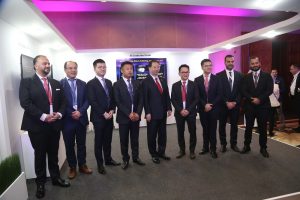 At the 20th edition of MENA ICT Forum, Huawei revealed its 5G network and advanced phase 5.5G blueprint, which illustrates the blooming 5G industry and the diverse 5G application service and will create new value for social development and industry upgrades.
During the forum, Huawei, a global provider of information and communications technology (ICT) infrastructure and smart devices, explored the trending ICT topics contributing to the socio-economic growth and reshaping the present and future of all verticals and industries, according to a statement by the company.
Prime Minster Bisher Khasawneh visited Huawei's booth and was briefed on the current and future ICT innovations to support Jordan's digital transformation vision toward economic modernization and unleash the potential to build the future. Huawei underlined its commitment to contributing to Jordan's telecom and ICT industry through sharing knowledge and expertise, extending open collaborations and partnerships with all potential ICT stakeholders, empowering more local partners, and cooperating with public and private sectors to create a sustainable ICT ecosystem with cultivating more local talents to be the future ICT leaders.
At the event, Huawei highlighted how 5G strides from large-scale commercial use to high-speed development, accelerating industry convergence and achieving business success. With the rapid deployment of 5G networks, the industry develops much faster than all previous RATs (Radio Access Technology) and two times faster than 4G.
Globally there are now more than 230 5G networks and 700 million 5G users. To push 5G to the next level, Huawei worked with carriers and industry partners to propose four features for 5.5G, the next evolution of 5G technology: 10 Gbps downlink, 1 Gbps uplink, support for 100 billion connections, and native intelligence. 5.5G is necessary to build an intelligent world.
Huawei continues focusing on 5G innovation and development, business success, and green networks to build an intelligent and sustainable ecosystem. The third-generation 5G Massive MIMO AAU dramatically improves user experience and reduces network power consumption.
During the event, Huawei showcased innovative 5G use cases, including AR collaboration solutions and Intelligent CCTV, demonstrating that 5G is a robust infrastructure that dramatically enriches people's lives and improves production efficiency.
In Jordan, Huawei has continuously contributed to the local ICT industry for 17 years, served 100% of Jordan's population by collaborating with three leading operators, and achieved a record of zero network accidents in 17 years. In addition, Huawei has trained more than 10,000 high-tech ICT talents for Jordan through its ICT academy, ICT competitions, Seeds for the future, and other programs with the support of related government and partners.
Moving forward, Huawei plans to train more than 30,000 ICT talents. Industry digitalization is the next wave of global economic development. As key enablers of digital transformation, 5G and 5.5 G opens a better intelligent world of new opportunities. Huawei makes its commitment to collaborating with customers and partners to contribute more to Jordan's digital transformation.