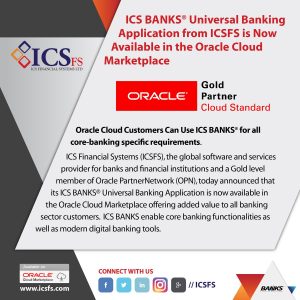 ICS Financial Systems (ICSFS), the global software and services provider for banks and financial institutions and a Gold level member of Oracle PartnerNetwork (OPN), today announced that its ICS BANKS® Universal Banking Application is now available in the Oracle Cloud Marketplace offering added value to all banking sector customers.  ICS BANKS enable core banking functionalities as well as modern digital banking tools.
The Oracle Cloud Marketplace is a one-stop shop for Oracle customers seeking trusted business applications and service providers offering unique business solutions, including ones that extend Oracle Cloud Applications. Oracle Cloud is the industry's broadest and most complete public cloud, delivering enterprise-grade services at every level of the cloud technology stack including software as a service (SaaS), platform as a service (PaaS), infrastructure as a service (IaaS), and data as a service (DaaS).
"ICS BANKS application has been designated – to run on the Oracle Cloud Platform based on the application's support of the Oracle Cloud compatible technology products and operating systems." said Mr. Wael Malkawi, Executive Director of ICSFS. "ICSFS participation in the Oracle Cloud Marketplace further extends our commitment to the Oracle community and enables customers to easily reap the benefits of ICS BANKS. We look forward to leveraging the power of the Oracle Cloud to help us achieve our business goals."
The Oracle Cloud Marketplace offers an intuitive user interface to browse and search for available applications and services, as well as user ratings and reviews to help customers determine the best business solutions for their organization. With its new automated application installation features, customers can easily deploy provider business applications from a centralized cloud interface.