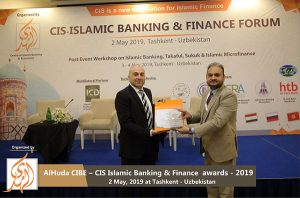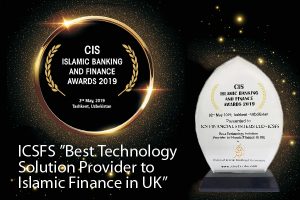 ICS Financial Systems Limited (ICSFS), the global software and services provider for banks and financial institutions, is awarded "Best Technology Solution Provider to Islamic Finance in UK" during  CIS (The Commonwealth of Independent States) – Islamic Banking and Finance Forum, organized by AlHuda Centre of Islamic Banking and Economics (CIBE).
The CIS – Islamic Banking and Finance Forum showcased the untapped market of CIS countries and the latest trends adoptions, challenges and opportunities in Islamic banking and finance industry in the region. The conference provided its delegates with practical insights of global efforts and achievements in Islamic Banking and Takaful and have demonstrated the flexibility of Islamic financial markets during the current financial crisis.
ICS Financial Systems (ICSFS) is recognised for its modular universal banking suite and digital platform; ICS BANKS ISLAMIC, which is a fully integrated solution designed and developed following the principles of Shari'ah, that uses the latest technologies to provide availability, scalability and best performance.
Managing Director of ICSFS; Robert Hazboun commented,"We are delighted to receive "Best Technology Solution Provider to Islamic Finance in UK" to be added among other recognitions. We are always ready to provide the Islamic banking industry with modern banking technology platforms, to empower banking services with a broad range of features and capabilities with more agility and flexibility. With ICS BANKS ISLAMIC strong infrastructure, our customers are able to leverage high flexibility in customising favourite themes, launching new products on delivery channels and touch points, bringing flexibility at its edge." Hazboun added "I would like to thank AlHuda Centre of Islamic Banking & Economics, and thank our customers for putting their trust in our solutions."
ICSFS invests in its software suites, especially in its digital banking platform, by utilising modern technology in launching new products, constructing a secured and agile integration, and keeping pace with new standards and regulations worldwide. ICS BANKS ISLAMIC software suites future-proof banking activities by providing a broad range of features and capabilities with more agility and flexibility, to enrich customers journey experience. The highlight of ICSFS solutions is its digital platform that accommodates Islamic Banking with the latest technological advances possible, where its proven omni-channel capabilities provides a full cycle of banking functions that are executed digitally from customer onboarding, KYC, product execution, to CRM, flexible credit scoring with a strong rule based engine and back office processes that are powered by embedded BPM engine. Also, ICSFS digital platform is recognised for its advanced technological deployment such as Blockchain, smart contracts, open API platform, AI and others to provide its customers with the edge in boosting customer experience.